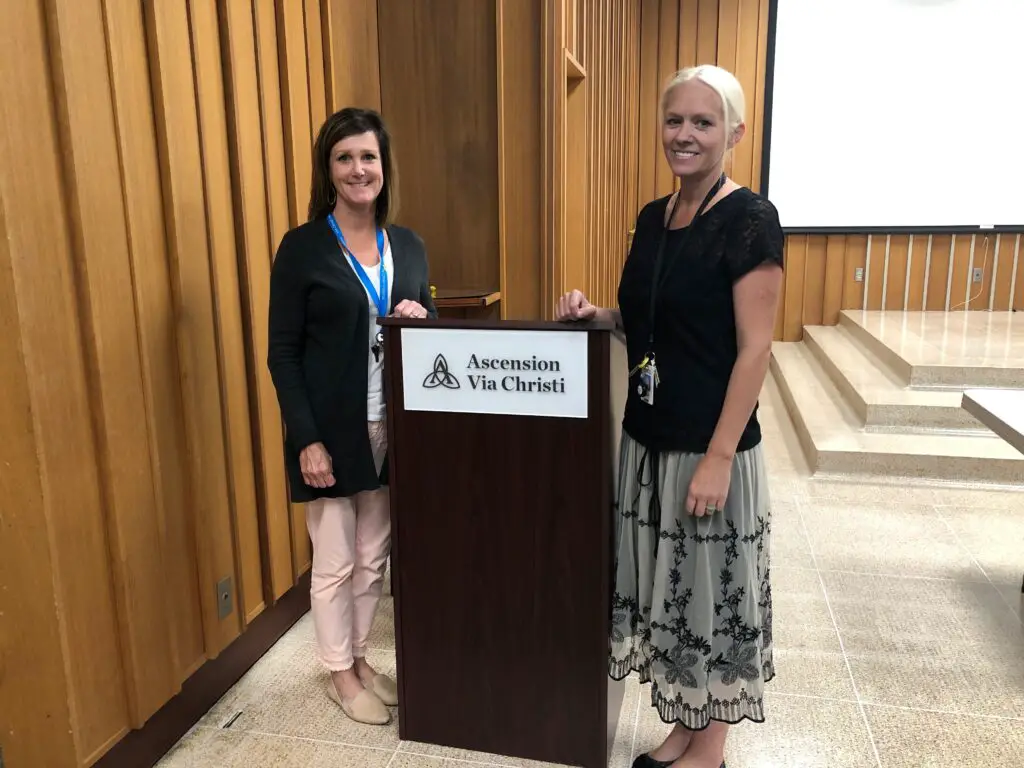 Human trafficking awareness training took place Tuesday for dozens of health care workers at Manhattan's Ascension Via Christi hospital.
The goal of the training was to educate and inform officials at all department levels what to look for when caring for an individual who may be a victim. Human Trafficking Program Manager Nicole Ensminger says these are unique cases where an individual is being controlled by another person who is using vulnerabilities, such as drug addictions as leverage.
"A lot of times we place stigmas on individuals and different mental health disorders. So I think it's really important for us to remember that when we see somebody, we just see the very surface and a lot of time those stigmas really prevent us from looking behind the scenes to the addiction disorder, to the threats, to the coercion to the abuse that's going on," she said.
Ensminger says classic warning signs would be similar to abuse victims, and might including visible physical injuries and control indicators in addition to other red flags.
"There can be different types of tattoos that signify that someone's being trafficked. (Other signs may include) malnutrition, dehydration, unusual infections, inconsistent or scripted history, being unable to give an address, a late presentation to the ER or hospital," she said.
Jennifer Jones is the Director of Care Management at Ascension Via Christi in Manhattan. She says it's important that hospital officials do everything in their power to get those victims the resources they need.
"We know that victims are coming into the hospital for different types of care. We want to learn about it and do everything we can to identify things to look for to offer help when it might be needed," she said.
A total of 95 human trafficking cases were reported in Kansas in 2018, according to the National Human Trafficking Hotline. Cities near military bases, highways, strip clubs, truck stops or with drug problems in the community are vulnerable areas where trafficking occurs. Areas where kids are in and out of foster care are also prime targets for traffickers. In terms of sex trafficking and labor trafficking, Ensminger says both are happening in the United States and in Kansas. Sex trafficking is more prevalent.
While no two victims are exactly alike, Jones says one thing they try to do is build a rapport with patients who may be victims. Getting them to open up to health care officials is essential.
"Each victim could be at different places and we can't assume or take the stance that we know what's best for them. We want to build rapport with them and hopefully to the point that they'll open up. We just want to be very mindful of where they're at," she said.
Tuesday's training included mock scenarios that were played out. Ensminger adds that in order to care for these patients effectively, community collaboration with other agencies is key.
"It takes all of us to be able to link arms and provide services. Not just one entity or one service provider can do this effectively, so it's very important for us to have community collaboration," she said.
More than 70 hospital officials from every department at Ascension Via Christi took part in the training seminar Tuesday.