A public servant retires after a 20 plus year career. Assistant Chief of Risk Reduction and Code Service Brad Claussen officially retired from the Manhattan fire department Monday September 23rd. A retirement party was held for Claussen the same day and had over 50 people in attendance. Claussen was understandably emotional.
Claussen achieved the Master Code Professional designation making him 1 of only 800 to do so. Claussen was presented with a Plaque and other gifts from his former colleagues.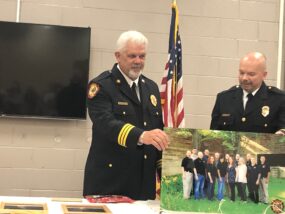 Mayor Mike Dodson spoke to a crowd of over 50 people about the contributions of Claussen.
Dodson also lauded the leadership skills of Claussen.
Claussen will be replaced by Ryan Courtright. City Commissioner Wynn Butler was also in attendance of the ceremony.
Fire Chief Scott French also spoke at the retirement ceremony. French says "There is no question housing in Manhattan is safer because of Brad". Claussen plans to take it easy now that he is retired.