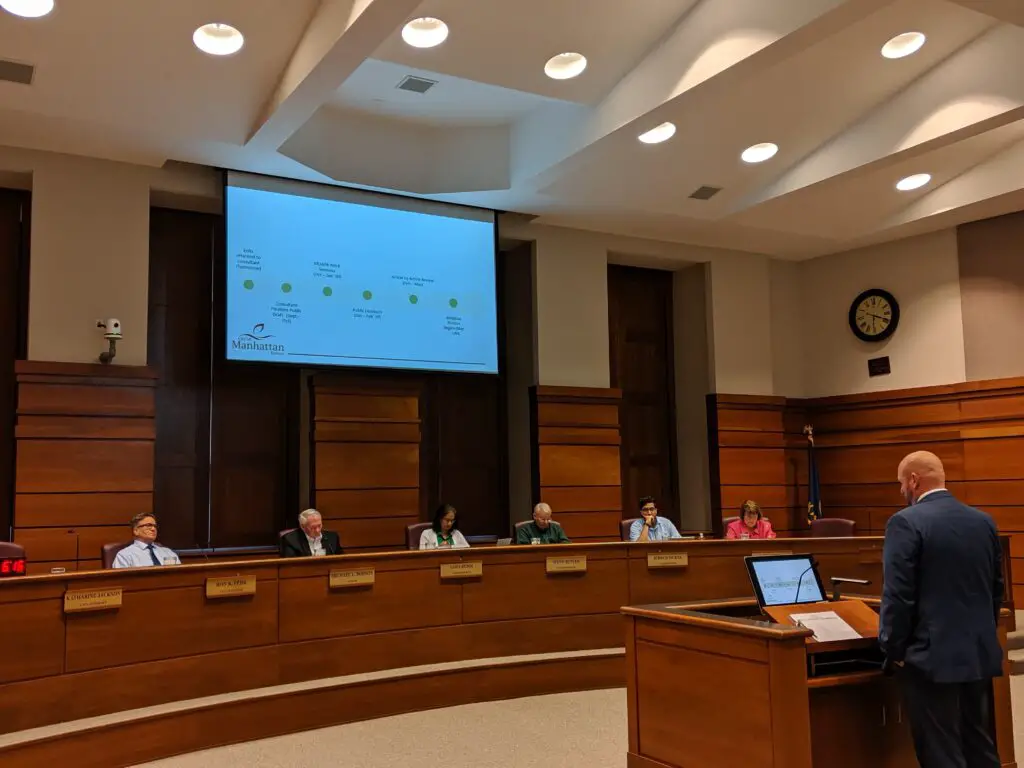 After much work, Manhattan administrative staff is now paging through an ordinance amending zoning and land-use rules as one document to tie up any loose ends.
The Unified Development Ordinance, according to staff, is intended to modernize the city's regulations and bring them in line with current development and design practices. It amalgamates and reorganizes multiple zoning districts and overlays and introduces a mixed use commercial district that allows for apartments, offices and residential units to be built together vertically or horizontally by right.
"We're not going to down-zone any commercial districts," Assistant Community Development Director Chad Bunger says. "And we haven't eliminated any uses, we've added to that long list of uses. I'm 100 percent confident we're not going to inadvertently create a non-conforming situation with any  commercial properties."
Also introduced in the ordinance are two unique gateway overlays that allow for unique design and sight standards entering the city off of K18 and the Eureka Valley area. Mayor Pro Tempore Usha Reddi encouraged staff to work with Kansas State University on the topic, and Commissioner Linda Morse spoke for extending such overlays for use in other major entryways into Manhattan.
Under the UDO, sidewalks would be required on both sides of the street in new developments. Currently, commercial collector and arterial streets are required to have them on both sides. Bunger says the regulations are proposed for safety, health and economic reasons.
Commissioner Wynn Butler fully agreed with requiring sidewalks on one side and was amicable toward requiring them on both, but noted that it will add to the cost of development. He says they should look into building them along with streets and putting the cost on special assessments.
"It makes sense to me that when you put in the road, put in the sidewalk, then you've got the whole thing done if you're really talking about having a community that you can walk around," says Butler. "Otherwise, you're always going to have these gaps."
Morse suggested if the city go that route, they contract to build sidewalks all at once after subdivision development is done in that particular area.
"We do that with mowing, we contract out with mowers," says Morse. "Maybe that would be cheaper, too."
Another consideration in the UDO is a parking cap in addition to the existing minimum parking regulations. The proposed max would vary based on intended use or residential density and be calculated per bed or per the business's square footage. City Manager Ron Fehr says their regulations more often require businesses build more parking stalls than they originally desired in the first place.
Mayor Mike Dodson says companies know best what they need to accommodate their business and the city already has regulations to mitigate and offset water run-off based on impermeable surface area.
"If we were to say, for example, for Home Depot you can only have 175 parking spots they might go somewhere else," Dodson says.
Commissioner Jerred McKee believes a cap is necessary due to the number of lots that never fill, adding that he doesn't think he's ever had trouble finding parking within a block of a business.
"Every development decision that we make in this city seems to fully and completely based on parking and I think it's nonsensical," says McKee.
Butler asked for data on how many stalls are in big box retailers' lots and whether the proposed max would accommodate similar parking lot sizes in the future.
The UDO does not change the law limiting home occupancy to 4 people if they are not a family unit. McKee feels the topic was semi-avoided and wants staff to take a closer look at the regulations.
"I'm actually quite surprised the ACLU hasn't come and challenged the state on it because they've done it in some of our surrounding states that have similar rules."
Butler says they should try to find a solution that makes sense, raising the idea of only forbidding more than 4 tenants in the proposed RL single family zoning district. Bunger says to avoid lawsuits they may need to settle on a city-wide maximum resident regulation for non-family units.
Bunger told commissioners the UDO would also create a registration process for properties that are legally non-conforming with zoning regulations — whether because they were constructed legally at a time before zoning changes occurred or if they were granted a variance by the Board of Zoning Appeals. He says the intention is to provide documentation to property owners that their property is legally non-conforming to maintain a record that they are grandfathered in and do not need to abide by regulations passed after the building was constructed.
Staff will continue tightening the ordinance and working out any conflicts they may identify and plan on presenting it to the public for feedback starting in October. Current timelines anticipate the UDO will come before the commission for final approval Summer of 2020.