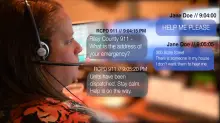 Riley County residents can now send text messages to 911 in the event of an emergency.
The Riley County Police Department announced Tuesday it has upgraded its infrastructure to Next Generation 911, an internet-based system. The transition is the beginning step toward enhanced capabilities such as more accurate caller location and a faster, more resilient emergency system. On a recent edition of In Focus, Dispatch Communications Center Manager Tyler Siefkes spoke about the importance of such technology to help serve those Speech-impaired and deaf or hard-of-hearing citizens.
"Not only those communities and individuals, but when you think about certain call types like home invasions, burglaries, domestic disputes where it may put you more in harm's way to call 911 and talk to a dispatcher," he said.
Text-to-911 doesn't replace the call option. In fact, RCPD encourages citizens to always call 911 when possible. The text option is a secondary option for situations where speaking would put a person in more danger.
To send a text to 911, use the message icon on you cell phone and put 911 in the number field with no dashes. You should include within the message, your address or location, emergency and type of help you need. Text-to-911 accepts written words, not pictures, emojis, or video at this time. A text or data plan with a major wireless provider is required to use this service.