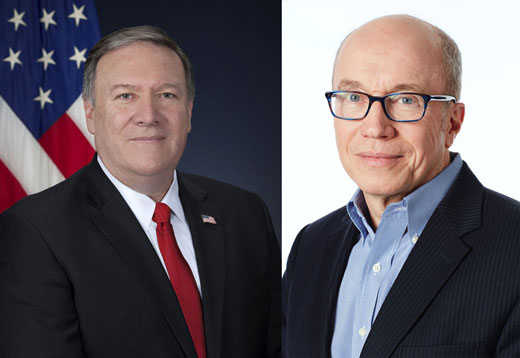 Officials at Kansas State University announced Thursday some last minute adjustments in preparation of Friday's Landon Lecture.
According to the K-State Division of Communications and Marketing, doors at McCain Auditorium will open at 9 a.m. Friday, 30 minutes earlier than originally announced. With a large crowd expected, university officials announced the adjustment to ensure sufficient time for all attendees to enter through the additional security measures. K-State is instituting its clear-bag policy, similar to sporting events for the lecture.
For those driving to campus, metered parking will not be available at Fairchild and Anderson Hall and the McCain circle.
Secretary Pompeo is set to speak beginning at 10:30 a.m. He will be the 190th Landon Lecture speaker.
Wednesday 3 p.m. original story
Two speakers are lined up this month for the annual Kansas State University Landon Lecture series.
The first speech will take place this Friday at McCain Auditorium and will feature US Secretary of State and former Kansas Congressman Mike Pompeo. The speeches are free and open to the public, however, K-State Chief of Staff and Director of Community Relations Linda Cook says those coming out for Pompeo's event should plan on arriving early.
"We are opening the doors early because we will have extra security where attendees will have to go through metal detectors. We're opening the doors at 9:30 a.m.," she said.
Pompeo will take the stage at 10:30 a.m. It's not clear what his speech will entail. Pompeo was elevated to the role of Secretary of State in April 2018 by President Donald Trump. He's also the former CEO of Wichita-based Thayer Aerospace, a company he founded.
"He's got a lot of experience and served as CEO there for a decade. We expect a full house (on Friday)," Cook said.
Later this month, K-State also welcomes Fortune CEO Alan Murray, who Cook says has experience in multiple media platforms including as the former president of the Pew Research Center and chief content officer of Time Inc.
"He kind of brings a totally different perspective and will be able to talk a lot about how digital media has changed the world of communications and journalism," she said.
Murray's lecture is planned for September 27.