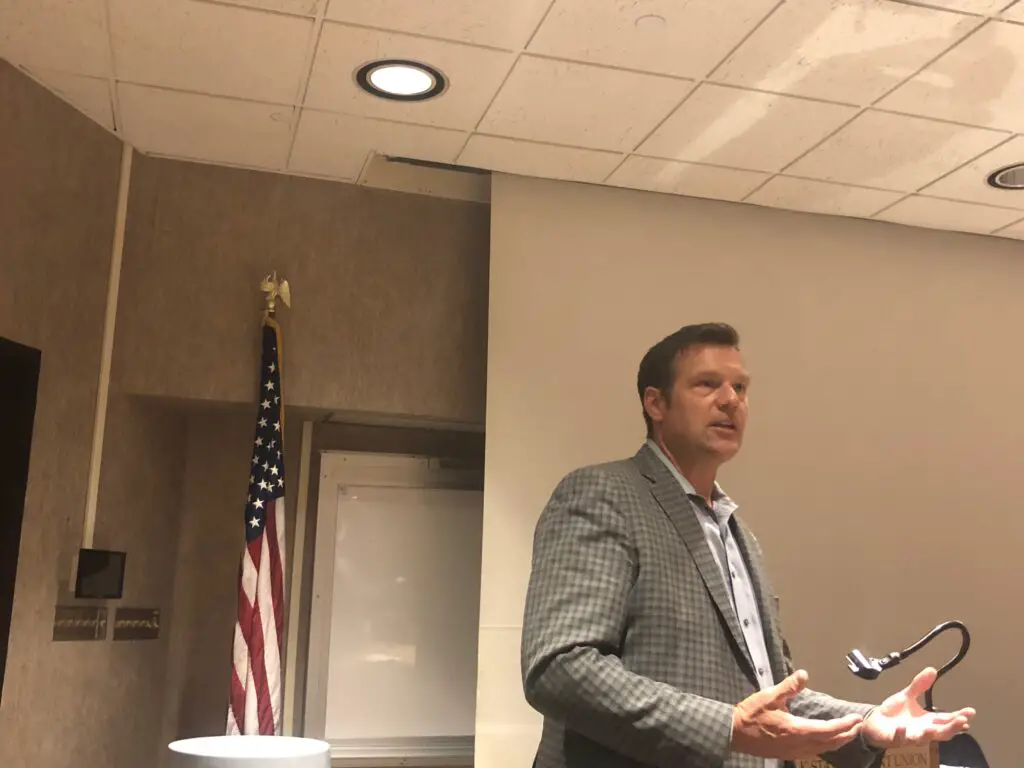 U.S. Senate candidate Kris Kobach was in Manhattan Monday for a speaking engagement with K-State Young Republicans.
Kobach, one of several GOP candidates declared in the 2020 race, spoke with News Radio KMAN prior to his talk at K-State Monday. You can hear the full interview below:
Kris Kobach on KMAN Oct 7 2019
---
The former Kansas Secretary of State and gubernatorial candidate says since last year's defeat he's found new motivation to run for office. Kobach says the country has hit a turning point in politics.
"This upcoming election in 2020 is a real turning point in terms of whether the president stays in office, whether the U.S. Senate continues to support him. As much as running two races in a row is not much fun because it's so grueling and tiring, I felt if I sat this one out, I would've regretted it," Kobach said during an interview with KMAN Monday.
Kobach commented on the deep divides in party politics currently, but ultimately pinned the blame on Democrats, who he says have moved further to the left on issues than Republicans have moved to the right.
"To be sure, there's been a disappearance in American politics of the quintessential moderate – the conservative Democrats or liberal Republicans. A lot of it is state by state," Kobach said.
One issue that has both parties deeply divided is how to move forward on immigration policy. Kobach is a staunch supporter of President Donald Trump and funding a border wall at the U.S. – Mexico border to stop the influx of migrants crossing the border.
"For the past nine months, I've been working as general counsel for We Build the Wall and this summer we completed the first section of privately built border barrier in American history, and we did it to a higher standard that was even higher than the U.S. government was building to," he said.
Kobach says being on the ground for that amount of time has shown him what needs to be done and as a Senator he says he'll be able build from that experience.
"I've litigated immigration laws for the past 20 years as well and that's important to know the loopholes in the law that need to be fixed. There are loopholes in our asylum law that are being abused by the caravans," Kobach said.
Specifically when it comes to children being brought over the border, Kobach says the U.S. must disincentivise the bringing and exploitation of children, which he blames on the Obama administration's Deferred Action for Childhood Arrivals (DACA) amnesty. Kobach says it created an incentive for people to start bringing children, assuming they too would be allowed to stay in the U.S. That policy was struck down, and is now being appealed to the U.S. Supreme Court.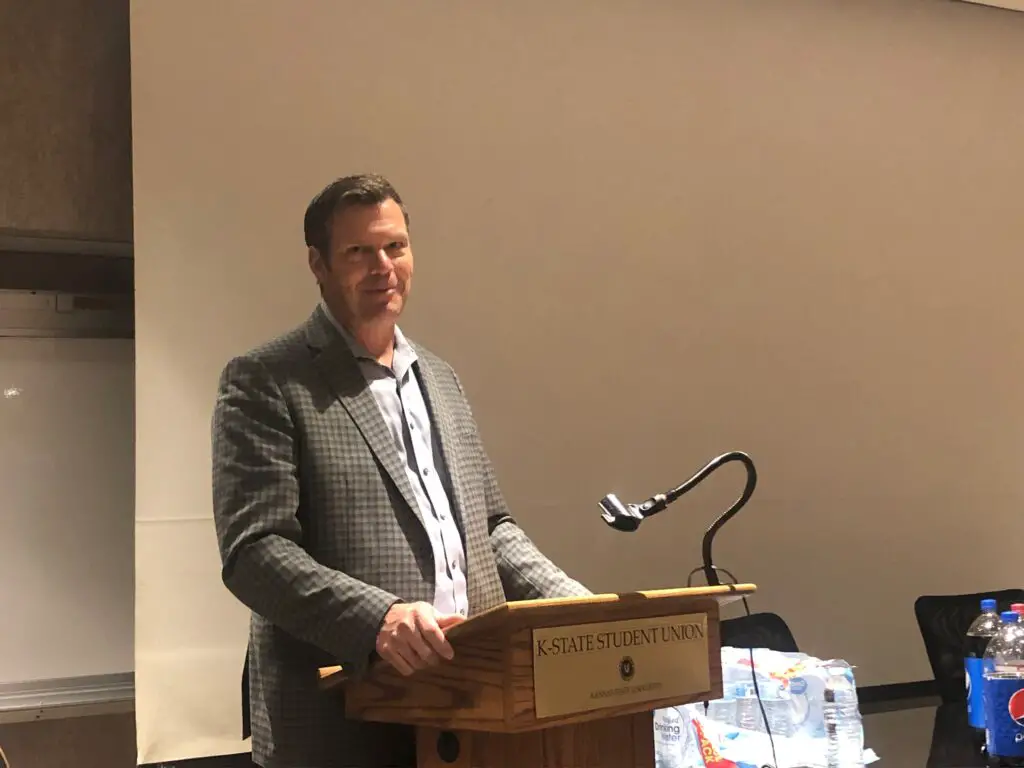 Kobach says that policy stated if a child was brought to the border, they could only be held for 20 days and would then be granted entrance into the United States. He says as a result, many children were either "rented" from families or abducted from families and used.
"It created a huge incentive to bring in kids and now we know a large percentage of the adults with a child in their custody are not related to the child because of Department of Homeland Security DNA rapid testing conducted," Kobach said.
Kobach says a big part of his campaign is restoring the Constitution, specifically the Second Amendment and is opposed to tighter gun laws proposed by Democrats which he said would infringe upon law-abiding gun owners. He also says he's not afraid to offend anyone with his positions, which he criticized other lawmakers, both Democrat and Republican for pandering to for fear that they'll lose their base.
Following Kobach's speech Monday, K-State Young Republicans President Joshua Willis praised Kobach's willingness to visit K-State but says the GOP overall isn't doing enough to reach young voters.
"Millennials and up-and-coming voters are very influential in future elections. One of the things Republicans need to focus on and do better is reaching people who are in college and just starting to vote," he said.
Kobach addressed questions about the ongoing trade war with China which has caused some trouble in markets for Kansas farmers. Kobach has been supportive of President Trump's hard nose approach. K-State Young Republicans Secretary Alex Brown says he, like many agriculture producers are conflicted on the issue of increased tariffs on Chinese goods.
"It's a tough situation because in the long run it will help farmers but in the short-term it will hurt, but I think overall it will be a good thing for farmers," Brown said.
Kobach told the crowd he expects the U.S. to win the trade war with China, but says it likely won't be realized until after the 2020 election.
"The trade war is hurting the Chinese much more than it's hurting us, especially when the Trump administration has continued efforts to soften the blow to commerce," Kobach said.