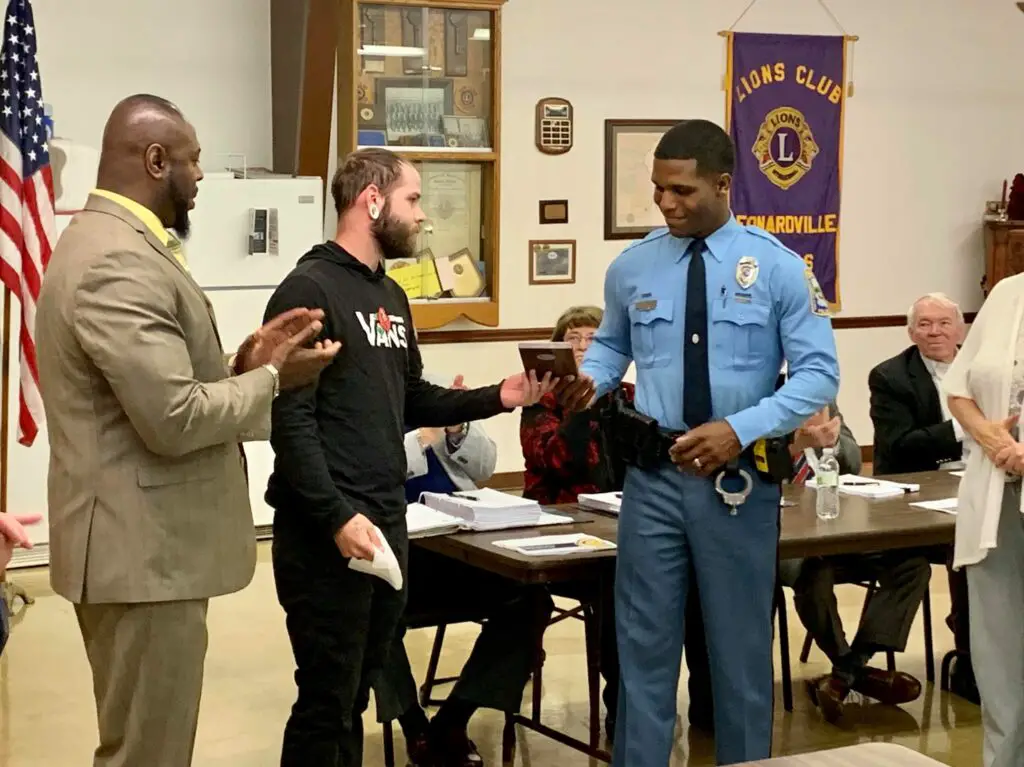 A Riley County Police officer was recognized this week for turning a would-be criminal situation into an opportunity to help someone struggling.
Officer Joshua Berard recently helped out Brenden Vens, a Flint Hills Job Corps student, who was caught attempting to steal a pair of pants from a Manhattan department store. Vens told the officer he took the pants because he needed them for a job interview but could not afford them. Flint Hills Job Corp Center Director Johnny Taylor presented the story to the law board on Monday.
"Officer Berard purchased the pair of pants for this young man and gave them to him so he could go on and get the job. This young man felt remorse for what took place but approached us about what he did for him," Taylor said.
Rather than arrest him, Berard saw an opportunity to help Vens so that he could land the job, potentially keeping him from repeating a criminal lifestyle.
"The biggest impact for me is being able to talk to him and explain exactly the situation. Not just getting the pants but explaining that by maybe being patient or reaching out, you never know what you're going to get by doing the right thing. There are resources and he just didn't know that, but now he does and I know he's going to share that with other people," Berard said.
Officer Berard says he wasn't looking for any recognition. It wasn't until Job Corps reached out to RCPD that the story circulated. Berard says he didn't want to his deed to overshadow the good work that goes on daily at RCPD.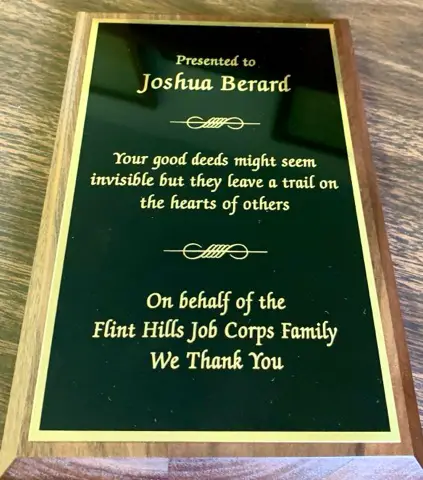 "Officers that do things like this are considered the 'good officers' and I know that there are a lot of officers that do exactly what they're supposed to do and that's what makes a good officer. There are a lot of officers that can't always afford to buy a pair of pants for somebody at that exact moment and they're still good officers. That's something I just wanted to make sure we're all aware of," he said.
RCPD Director Dennis Butler said Berard's example is one the police department is proud of.
"He and I talked about this at length after I learned about it and he was just inspired to help this young man, he didn't even think anything about it and went on about his day," Butler said.
Butler says RCPD officers come across these types of situations daily and don't do things like this for the attention or recognition.
Vens was at Monday's Law Board meeting where he presented a plaque on behalf of Flint Hills Job Corps.
"What you said to me that day really opened my eyes. I didn't want to rely on anyone because I've always relied on myself and that's pretty much why I did what I did," Vens told Officer Berard Monday.
The plaque reads "Your good deeds might seem invisible but they leave a trail on the hearts of others."