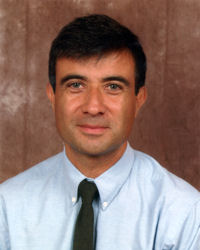 The US Department of Agriculture's Agriculture Research Service has announced the hiring of Dr. Alfonso Clavijo as the Director of the National Bio and Agro-Defense Facility (NBAF).
NBAF Coordinator for USDA APHIS Dr. Ken Burton tells KMAN they're excited to have a permanent NBAF Director now in place.
"He brings such a wide wealth of experience, not only from academia, but he's also the Executive Director for the Centres for Animal Disease in Winnipeg, Canada," Burton said.
Clavijo begins work his new role with NBAF on October 13.
That role is under the umbrella of the Canadian Food Inspection Agency, a position that saw Clavijo overseeing the administration of diagnostic services, related technology development and research to detect and prevent transboundary, emerging and zoonotic animal diseases, according to a release from the USDA ARS office. Burton says having Clavijo on board will enhance the transition already underway at NBAF as USDA secures possession of the facility from the Department of Homeland Security.
"Bringing in that center leadership is going to be really important and really helpful to give guidance and have that level of senior direction that we can all use in management to make the transition go forward the way we need it to," Burton said.
The 574,000 square foot facility in Manhattan becomes fully operational in 2023. Hiring has also been underway for the past few months.
Clavijo also held leadership or advisory positions at CFIA laboratories as well as at Kansas State University, Texas A&M, the Pan American Health Organization and National University in Bogota, Colombia. He's also published numerous scientific works.
NBAF is featured the first Thursday of each month on KMAN's In Focus program, at 9:06 a.m.