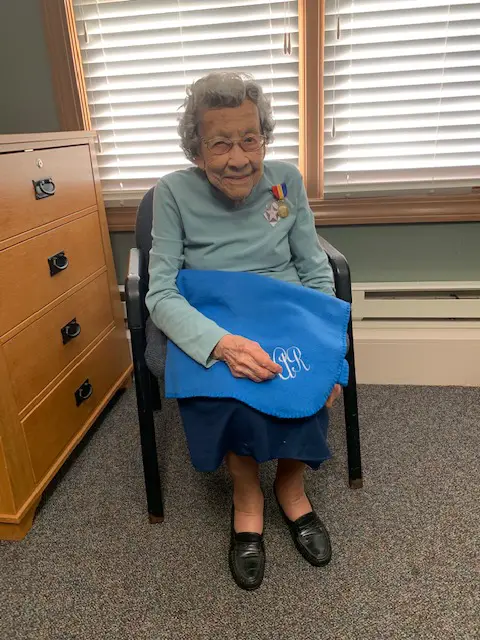 WAMEGO, Kan. — A 109-year-old World War Two veteran has accepted Polly Ogden Chapter of the National Society of the Daughters of the American Revolution's most distinguished award.
Julia Kabance, the eldest member the Prairie Band Pottawatomie Nation and currently the oldest Native American WWII veteran, received the DAR Distinguished Citizen Medal at the Good Samaritan Society – Valley Vista nursing home in Wamego Monday for her many years serving in the military and volunteering in VA hospitals and churches.
She says she is the first Native American to receive the award.
During the ceremony, Kabance received a medal, certificate and blanket with "D.A.R." sewn into it, but she'll be the first to tell you that she has always sought to give her all for her country and doesn't do it for the praise.
"When you're doing something that you like, you don't mind doing it," Kabance said. "And that's the way I felt about volunteer work and that's the way I felt about when I went into the service. I'm doing it for the country. I'm not doing it to get any praise for working."
Kabance started her military career in 1943 when she joined the Women's Army Corp and began working as an office worker at Fort Des Moines.
By 1945, Kabance had lost some of her hearing and became a disabled veteran, but continued working for the Army in Tacoma, WA, until 1946 when she moved to Kansas to care for her sick mother.
After her mother passed away in 1949, Kabance continued working for the military in various roles, going from working for the Air Force in Topeka to working in accounting for the U.S. Army Corp of Engineers in Washington and the east coast.
All these years later, Kabance says if she were young again, she would rejoin the military.
"I like the organization," Kabance said. "Everything is done on time. Where I am now, nothing is done on time. Saturday, Sunday you can sleep in. If I want to eat at noon, I want to eat at noon, not before or after.
After retiring in 1972, Kabance moved to St. Mary's, KS, and began her volunteer work.
She spent 17 years volunteering in the rehabilitation and physical medicine areas of Colmery-O'Neil VA Medical Center in Topeka. She did so through the American Legion and the Disabled American Veterans organizations.
She also served as a volunteer in the Catholic Church.
The DAR Distinguished Citizen Medal is awarded to current military members and veterans, first responders and citizens who have further freedom and security in for the United States of America and who have demonstrated honor, courage, ladership, service and patriotism during their life.
Kabance has also received the Good Conduct Medal, the World War II Victory Medal and the American Campaign Medal.