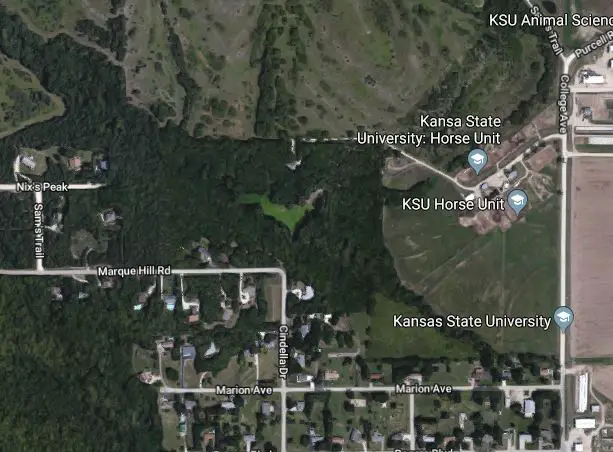 A recent Associated Press article indicated more than 1,600 dams nationwide are rated high-hazard due to aging infrastructure and the potential for loss of life if they failed.
Among them is the Samuel Rogers Detention Dam, located about a half-mile north of Manhattan, nestled in a wooded area behind the Kansas State University Animal Sciences equine unit. The dam is 33 feet high and 560 feet long and was built in 1961. It was included in a group of 26 Kansas dams rated in 2018 as poor or unsatisfactory.
The university purchased the dam in 2015 and became aware of some deficiencies which are now being assessed. Among the concerns is a small seepage area near the downstream toe on the north side of the release channel which was first discovered in the 1990s, but has not changed since that time. Joel DeRouchey, a professor in Animal Sciences at K-State says the seepage comes from the underneath side of the dam.
"You should note that there is no erosion, no indication of any water that's run over the top of the dam to cause erosion because of the tubes, the primary inlet as well as the emergency spillway that's in place," DeRouchey said.
The water is not coming through the retention structure itself. The report's emergency plan estimated a major flood, caused by failure of the dam would inundate 82 homes and 17 roads. Derouchey says that's a worst-case scenario and unlikely. He says K-State has hired a local consultant to assess the structure.
"I would expect over the next month or so they'll be able to produce that report to us and the Division of Water Resources. They have not given any cost estimates with the different options that they're going to propose to bring that dam back into compliance," he said.
The dam doesn't typically hold a lot of water, though it did fill up somewhat during an unusually wet spring and summer 2019 according to Mike Day, head of the Animal Sciences Department at K-State.
"In terms of the capacity and in terms of where you'd expect a lake or a pond to be after this year, it wasn't even close. Where you see the seepage is near the bottom of the spillway," Day said.
The university has hired a local consultant to create options for repairing the seepage. A timetable has not been given for when that might be completed, though officials tell KMAN they are acting promptly to ensure dam is brought into compliance.
In addition, the Rimrock Lake Dam, known locally as Homer's Pond in Junction City noted it has been in violation of state regulations since it was built in 1952, based on a 2014 inspection. The city is currently working to obtain easements and will begin repair work on it next spring.