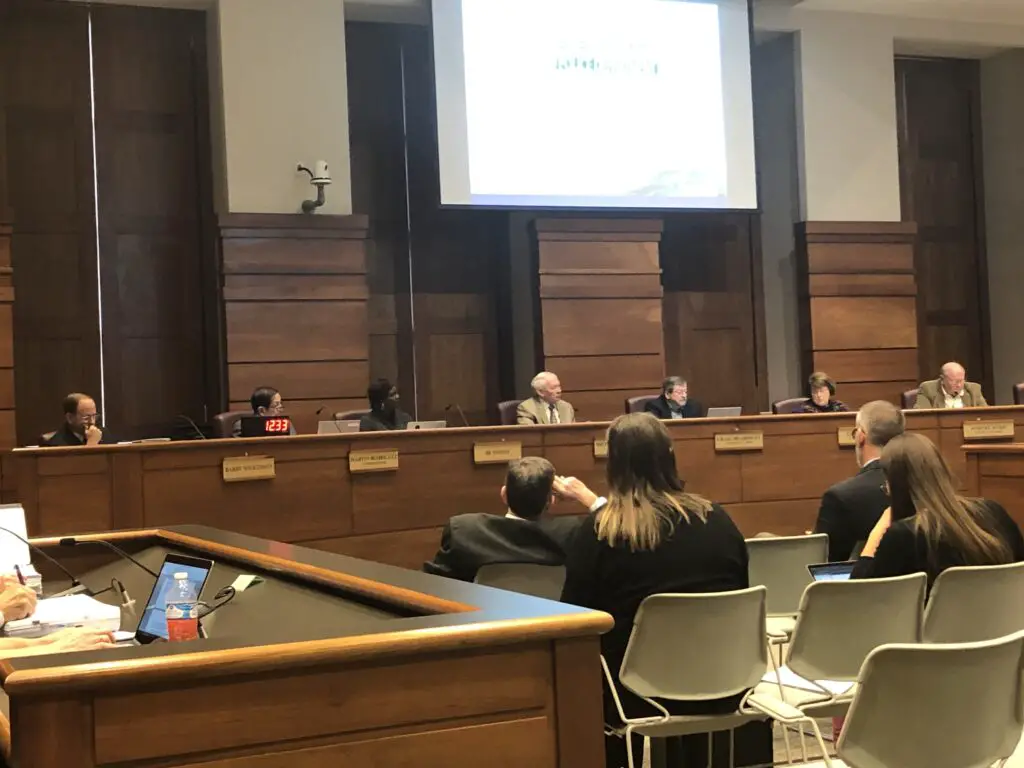 The Riley County Law Board has tabled a vote on a memorandum of understanding with the Kansas State University Police Department.
The revamped agreement would give KSU Police the ability to do enforcement they're allowed to do by state law. A previous agreement approved several years ago restricted KSU Police response only to university owned property. The new agreement would allow more flexibility, especially on streets adjacent or cutting through university property, according to RCPD Captain Richard Fink.
"It allows them to police the areas in and around the university and police their properties in and around Manhattan and Riley County, as well as areas that are densely populated with K-State students. A big benefit to us is that it lightens our load quite a bit," Fink said.
Law Board member Robert Ward took issue with some of the wording within the memorandum including an addendum from the university.
"One I don't think this is a contract and two I don't think we need that extra addendum to be attached to it and there are a couple things that concern me. Disclaimer of liability – part 3, privacy of student records – part 10 and anti-discrimination clause – part 11," Ward said.
Fink says the agreement would still include RCPD as the primary police department on any Greek housing investigations, with final authority on which agency should handle any subsequent investigations. Fink says it's not clear why the current agreement was in place, only to say that the jurisdictional boundaries have existed for several years.
"A different agreement was put forward which really restricted them to just policing the KSU owned property. Even streets that cut through and are adjacent, we were working accidents and taking calls on," Fink said.
The agreement would still include RCPD as the primary police department on any Greek housing investigations, with final authority on which agency should handle any subsequent investigations.
Law Board Chair Mike Dodson had concerns about some of the language in the agreement stating KSU Police may exercise their police powers anywhere within the city limits and within Riley County when the protection of students and faculty was warranted provided if an agreement could be reached by the two entities. Capt. Fink explained that it would give those officers the opportunity to be the first-respondent to an incident where law enforcement is needed even if it's not on K-State property.
"They may see something happening – a crime in progress or a traffic accident where they need to something as a police officer and take control of that. We would of course respond, but if they see that while moving back and forth (off K-State property), this gives them the ability to take immediate action," Fink said.
The memorandum will be reviewed by the Law Board's legal counsel and come back before the board at a future meeting.
In other business, Law Board members received a briefing on cost estimates at the new firing range, south of Manhattan, which RCPD hopes to move into by mid-2020. At last months meeting, a board member had asked to provide what expenses may look like compared to the previous firing range facility. Capt. Josh Kyle admitted that was a difficult task because RCPD hasn't typically tracked expenses or coded them according to range expenses in the past. Most of the significant changes, Kyle estimates will be in the added utilities at the site.
"Currently there is no running water at our current site and in the future site there will be. Those expenses are estimated at $700 a year. I think that's going to double or triple, but it's just a guess," he said.
Additionally, RCPD will be responsible for any maintenance costs on the range and on roads that go through it. Law Board member Craig Beardsley asked about a timeline for when RCPD wants to begin moving and using the facility. Kyle says there are still some hurdles to clear before their current lease at the old site expires on June 30.
"Ideally the goal is that we will have the berms in place along with the backdrop that allows us to shoot at it at that time. We have some contingencies in place in case that doesn't happen. Those contingencies are unpleasant. It's my opinion that if we to the beginning of 2021 and we don't have a range in place, we're in a really bad position," Kyle said.
There may still be some construction going on at the site through all of 2020. Kyle says RCPD is currently drafting a memorandum of understanding between RCPD, Riley County and TRS, the current property owner of the site.
In other business Monday, the Law Board unanimously approved a special order for a peer support program that will provide confidential emotional support during and after times of personal or professional crisis to members who express a need for assistance.
The program will participate in RCPD's comprehensive response to an officer involved shooting, critical incidents, or any other potentially traumatic event. Law Board member and current Riley County Attorney Barry Wilkerson praised the program.
"I think it's a good program. I know some other departments have gone to this. I've attended some presentations on it and it seems like it would be very beneficial to employees of our department to have this," Wilkerson said.
Peer support team members will be required to undergo 40-hour training specific to peer support groups and programs. They will provide emotional support and guidance but do not replace counselors, therapists or psychologists. They also do not replace outreach programs that are available to the department and its employees.
*End of year expenditures were also presented to the Law Board Monday, showing that RCPD is currently op pace for a positive budget balance of $1,078,625 due to unused personnel funds (as of Oct. 31). That figure had been $924,185 as of Sept. 30. The department says non-personnel funds are on pace to be completely consumed around the end of December. The information will again be presented at the December meeting.