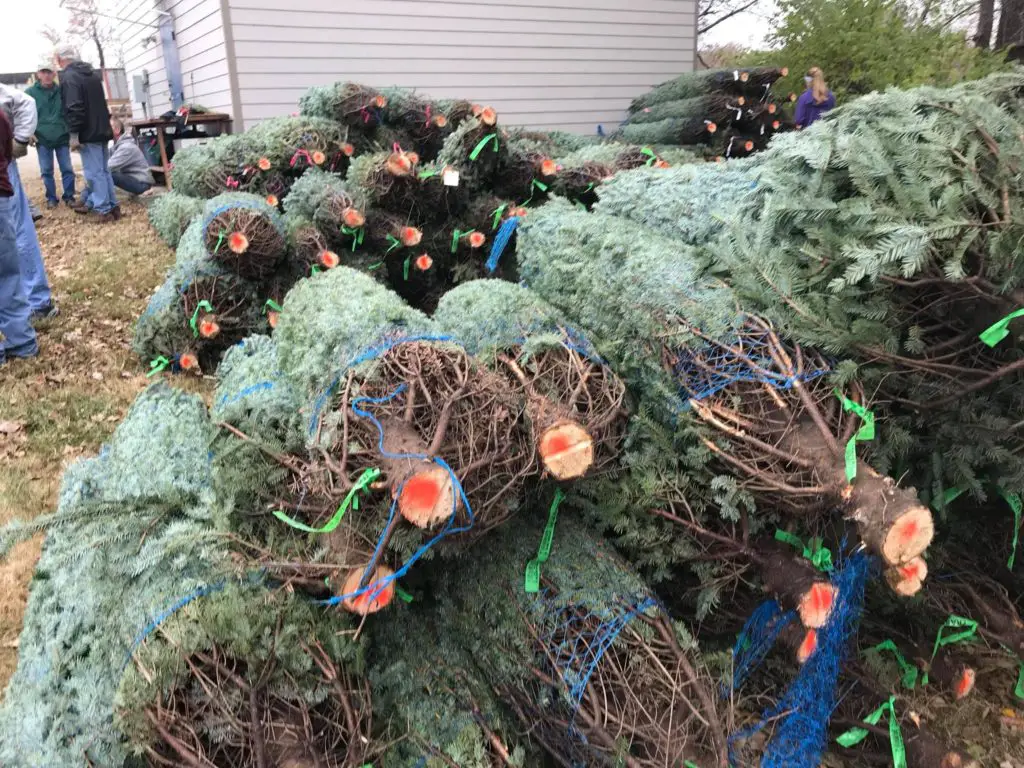 With a shorter than normal time between Thanksgiving and Christmas, the Manhattan Breakfast Optimist Club expects a rush on its popular Christmas tree sales which kick off officially on Thanksgiving Day.
"We have a lot of very nice taller trees, but those are going to be gone probably by the second weekend. So come out early. We recognize people may not want to put them up that early but you can take it home and store it in the shade somewhere at home or you can store it at the park and come back and get it," Co-chair of the tree sale Jim Franke said Monday on KMAN's In Focus program.
The tree lot is in Optimist Park, 317 Plymate Lane and can be accessed via Amherst and South Seth Child behind Little Apple Toyota-Honda. The tree lot is open 10 a.m. to 2 p.m. and again from 2 p.m. to 6 p.m. on Thanksgiving Day. It will also be open 9 a.m. to 8 p.m. on Black Friday and weekends leading up to Christmas as well as 4 to 8 p.m. weekdays in December.
The Optimists have been holding the annual fundraiser for over 60 years in Manhattan. More than 750 trees are available, varying in size including Scotch Pine, Black Hills Spruce, Balsam Fir, Douglas Fir and Fraser Fir trees. All profits from tree sales support a variety of local youth programs. Franke says it's the personal service provided by the Optimist volunteers that can't be met anywhere else.
"We've got a good feel for things you need to look for when you buy a tree or how to take care of it. Once you purchase the tree, we'll net it for you so it's easy to transport it and get it into your house," Franke said.
Trees range in size from 4 feet tall to 12 feet tall. Franke says roughly 30 percent of their inventory is between 7 and 12 feet tall.
"If you haven't done this before, particularly if you've got young kids, it's a nice experience. We're sitting in this valley down on Wildcat Creek and we've got all these trees out on wooden stands, there's lights and music, giveaways for the kids and free popcorn," Franke said.
All profits from tree sales support local youth programs in the Manhattan area.
Tree varieties include Scotch Pine, Black Hills Spruce, Balsam, Douglas and Fraser Firs. Those who shop can also pick up a variety of Christmas decor including tree stands, lights, ornaments and wreaths. More information can be found by searching for the Manhattan Breakfast Optimist Club on Facebook.