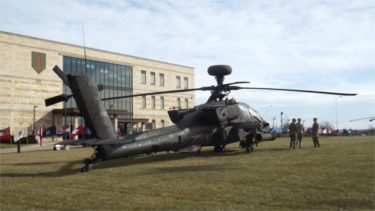 In Manhattan, the Veterans Day Parade staple is the Veterans Day Parade that runs along Poyntz Ave..
This year, people will also have a chance to observe some of the tools today's soldiers use in combat.
Beginning Sunday evening, there will be one particularly large piece of equipment on display at City Park.
"We also have some static displays in front of City Park to include an M1A2 Abrams tank," Janet Nichols, the president of the Flint Hills Veterans Coalition, said. "It's getting dropped off on Sunday evening, so it should be there while it's still light out on Sunday and then it'll be there til around two o'clock. We're trying to get the tank moved before school gets out."
There will also be an opportunity to see what it is like to pilot a vehicle some may consider a flying tank.
In the parking lot of the Flint Hills Discovery Center, there will be a virtual-reality trailer in which people can simulate what it is like to pilot an Apache helicopter
"You put on the big goggles and you're sitting in a special seat and you fly around in an Apache helicopter," Nichols said. "They'll be there, I think, from 11 a.m. to 4 p.m.."
The Flint Hills Discover Center is also giving veterans free admission on Veterans Day from 10 a.m. til 5 p.m..
Other Veterans Day festivities include:
A breakfast at American Legion Post 17 from 7 to 9 a.m..
The Veterans Day Parade which goes from the Manhattan Town Center to City Park beginning at 9:30 a.m.. The theme this year is the 75th anniversary of D-Day and the Battle of the Bulge.
A ceremony featuring a grade-school poster contest, a middle and high school essay contest and speakers at Peace Memorial Auditorium in City hall at 11 a.m.. KMAN will be airing this event live.
A veterans' recognition banquet at American Legion Post at 6 p.m..
A display of military artifacts at the Riley County Senior's Service Center from 9 a.m. til 3:30 p.m..
To listen to members of the FHVC talk about events going on throughout the day, visit https://1350kman.com/in-focus-11-8-19/.