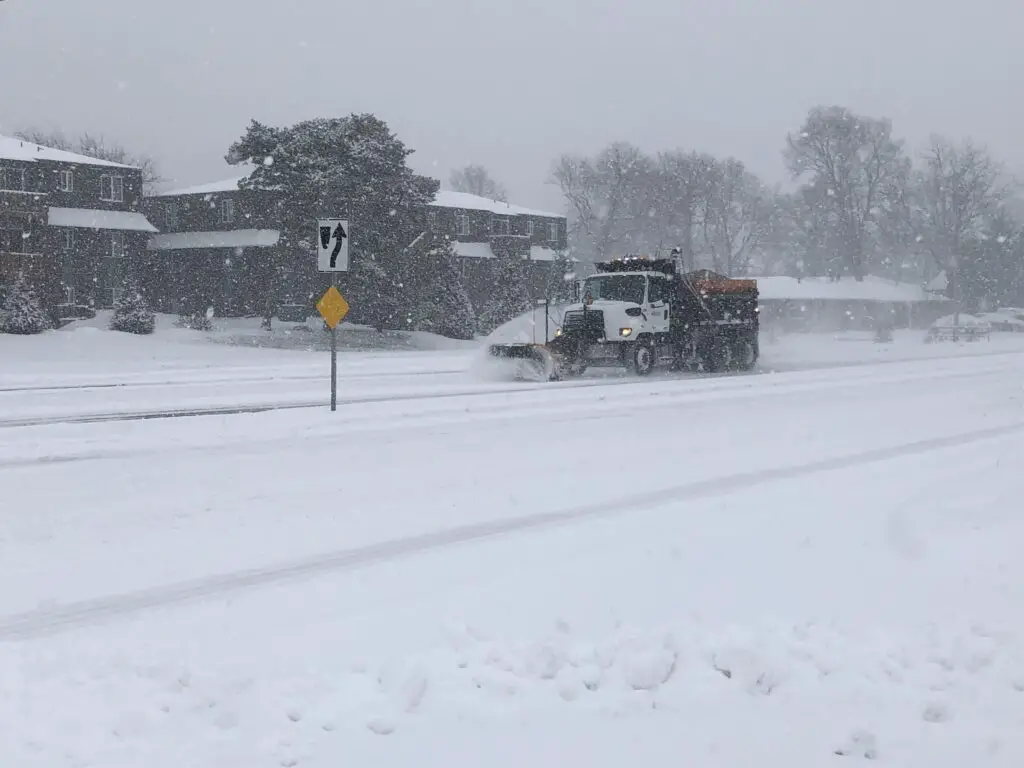 Update 9 a.m. Sunday
The National Weather Service says two rounds of winter weather are expected between now and Monday.
Snow began falling in the Manhattan area early Sunday morning, prompting some cancellations of a few local church activities. (See the Closings and Delays page for the latest announcements).
The City of Manhattan says city plow crews deployed at about 6 a.m., starting with treatment of the streets and primary routes in the city. Travel is not advised, but if you must be out, it's encouraged that you slow down and give yourself extra time to stop.
The Riley County Police and Geary County Sheriff's Departments have implemented the Emergency Accident Reporting Phase (EARP) until further notice.
EARP is activated when there is a high volume of accidents are occurring due to weather related circumstances.
Drivers to not need to report crashes immediately as long as meets all of the following criteria:
No injuries to any parties involved
No hit-and-run
No DUI or suspected alcohol/drug related crimes
Insurances and contact information is exchanged between responsible parties
Property damage is over $1,000(If it is less than $1,000, you do not need to report it to the police.)
If there are injuries, a hit-and-run, or DUI, then you should immediately call police and report the crash.
Crashes must be reported within 48 hours.
Road conditions are slowly deteriorating outside of Manhattan. According to kandrive.org, all highways leading in and out of Manhattan are completely snow covered. As of 9 a.m. most of I-70, from Grainfield to approximately the Paxico exit were completely snow covered as well. Travel into eastern Kansas could become difficult as the Kansas City area is expected to receive some of the heaviest snowfall.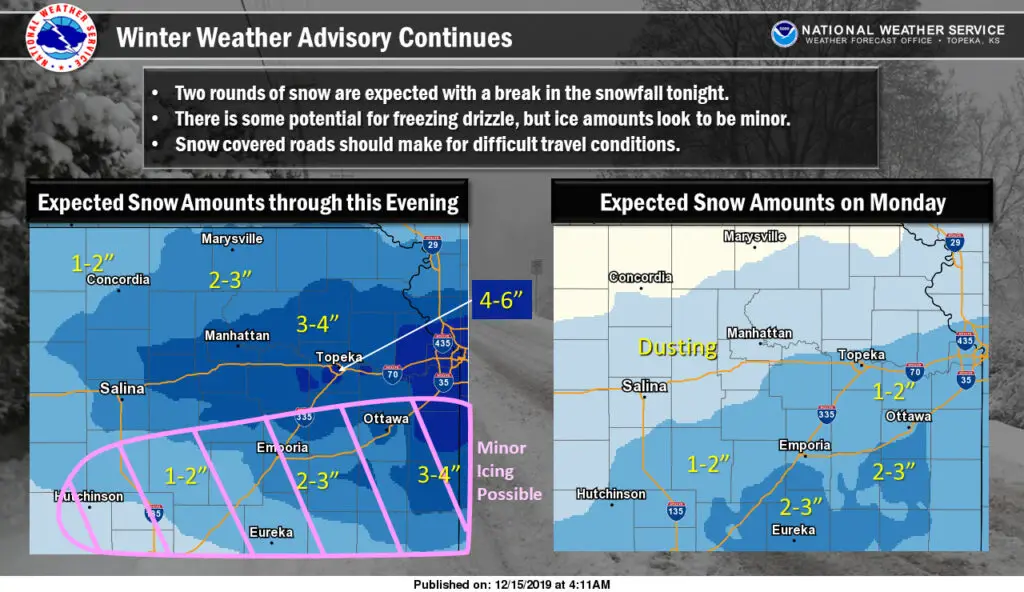 Snowfall today could be moderate or heavy at times through midday, which will lead to slick and snow packed roads. There is also a chance for some light freezing drizzle this afternoon or evening, though the Weather Service say ice amounts are forecast to be minor. A second band of snow is expected to develop Monday morning, though only about a dusting is expected in Manhattan. Heavier amounts will be to the south with Monday's system.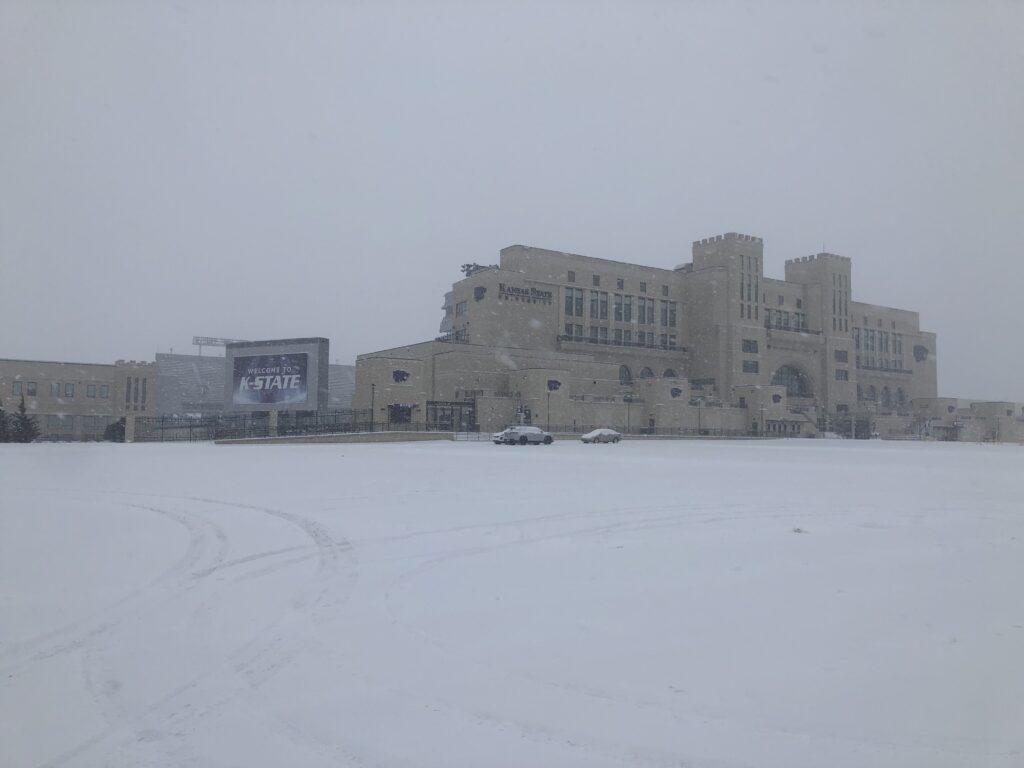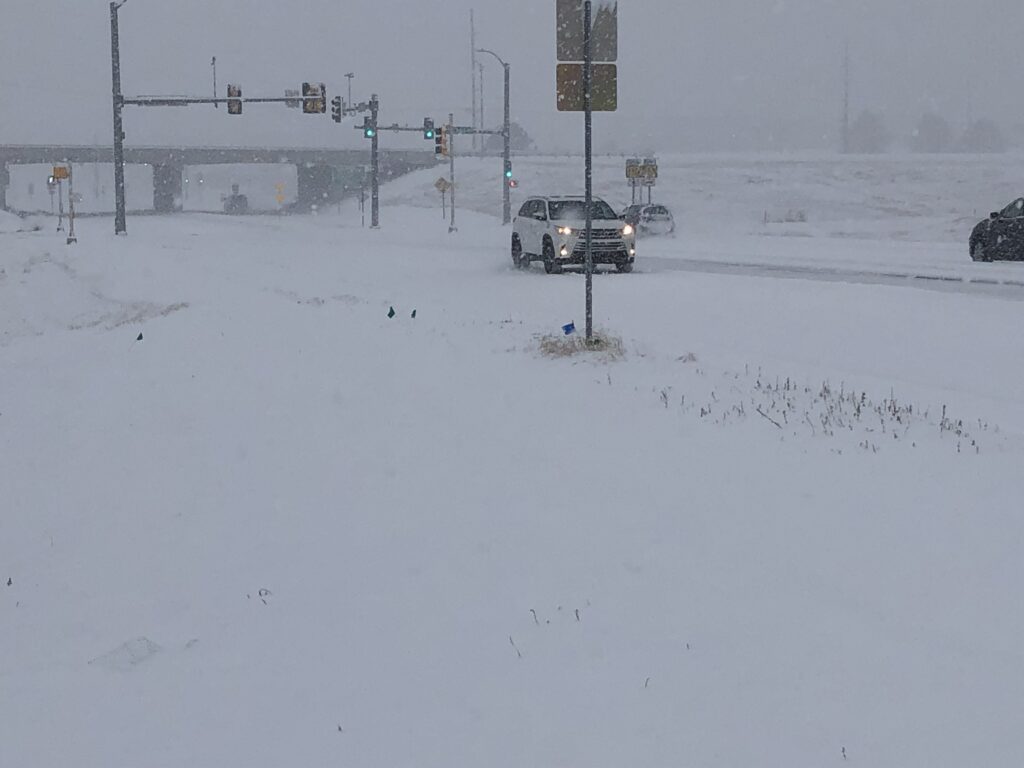 Original story – 5:30 p.m. Saturday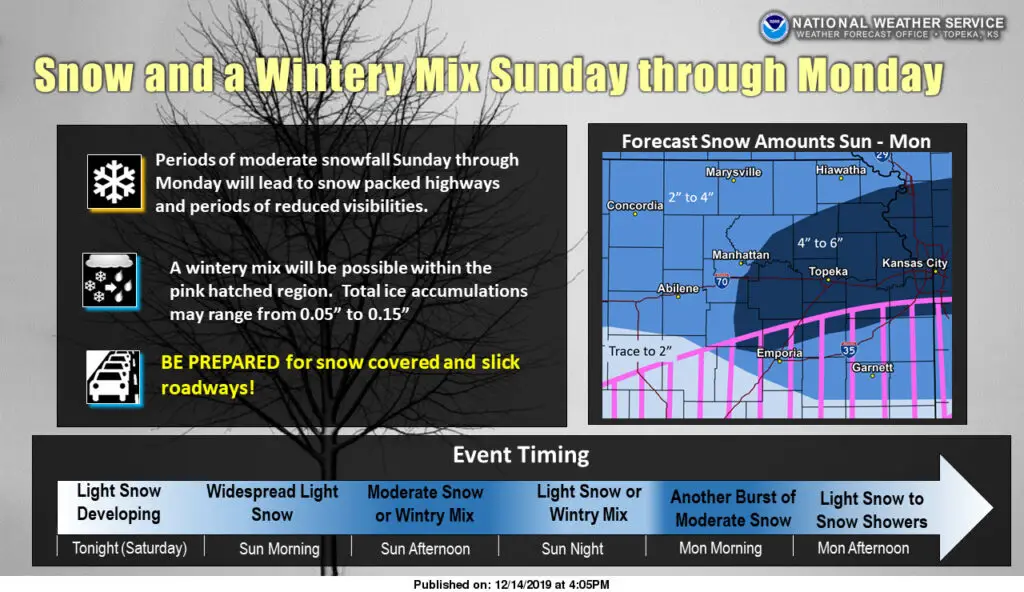 Heavy snow is anticipated with a storm system pushing through the plains Sunday into Monday.
The National Weather Service says the  with light snow begins Saturday into the overnight and morning hours, becoming heavier in the afternoon hours on Sunday. There may be a slight break in the heavier precipitation before another round of snow moves across the region Monday morning.
Manhattan is on the edge of the line of heavier snowfall, with approximately 2 to 4 inches of accumulation expected. Areas of eastern Pottawatomie and Wabaunsee counties could see upwards of 4 to 6 inches. Locally higher amounts are possible.
A Winter weather advisory remains in effect from 6 a.m. Sunday through 6 p.m. Monday. Further south of I-70, freezing rain is possible, which may lead to slick roadways.