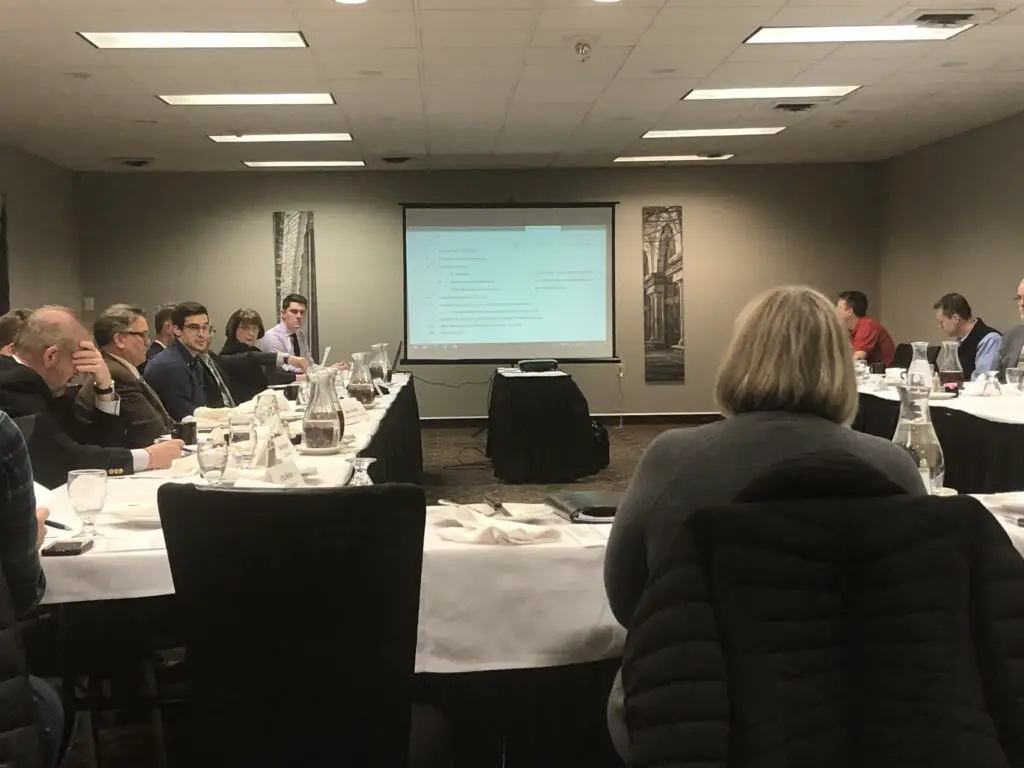 Local officials from Manhattan and Riley County gathered Monday for the monthly Intergovernmental luncheon.
K-State finalizing E-Scooter regulations, proposals
E-scooters will soon litter the K-State campus and surrounding areas thanks to a pilot program that begins later this year.
Last fall, the Manhattan City Commission amended the ordinance regulating bicycles and skateboards to extend to micro-mobility devices. Kansas State University Chief of Staff Linda Cook, speaking Monday at the Intergovernmental Luncheon, said the university is working closely with city officials on a task force developing regulations. The university recently wrapped up its request for proposals and are currently in the review process. A bid could be awarded by the first of March. Cook says it's the university's goal to have e-scooters in place after Spring Break.
"We'll have training and communications by the first of April and actually bring them into campus and the community sometime in mid-April," Cook said.
The university wanted some time for students and staff to be able to test the scooters before summer break. They have implemented a three month review process to iron out any red flags that may come about with e-scooter usage.
A survey of more than 400 students and faculty found 75 percent were in favor of having such devices on campus to improve mobility. Cook says concerns at other university campuses have included where users tend to drop off their scooters as well as pedestrian safety.
"As we work with potential vendors, we're interested in things like pedestrian and rider safety, geo-fencing areas where we think there might be too much high traffic with pedestrians," Cook said.
Geo-fencing means in certain areas, the scooters would actually stop functioning if riders took them in areas where they might be deemed unsafe.
Before any contracts are signed, the university and the City of Manhattan must give the green-light to any vendor who comes in with a proposal. It's unclear how many e-scooters will be included in the initial test-run.
Dark Store Theory law change could be debated by state legislature this year
As the 2020 legislative session presses on, the likelihood of a debate over dark-store theory appears to be imminent.
Last week, 67th District Rep. Tom Phillips of Manhattan introduced a bill that would clarify language in existing law under nationally accepted appraisal principles. The dark store theory is often employed in appraisal appeals by big box retailer tax reps. They argue that their properties should be appraised as though they were vacant and not account for current commercial use, conflicting with standard appraisal practice. Companies often seek a 50 percent reduction of their property appraisal and thus their property tax bill.
Speaking at Monday's Intergovernmental Luncheon, Riley County Counselor Clancy Holeman explains why the language change is needed.

"Even when the Board of Tax Appeals (BOTA) makes a decision that is against existing principles, on appeal that will not win because the underlying law does not clarify they can't use a hypothetical lease fee. That jargon matters," Holeman said.
When retailers win on appeal, Holeman says it has the potential to cripple the budgets of local city, county and school districts as they often demand a minimum 40 percent reduction in their appraisals. Holeman is calling on city officials and others to testify when the bill ultimately gets a hearing.
"It's a big, big issue. We need your help and we're willing to have anybody sign on who wants to testify, there's no substitute for that," Holeman said.
It's unclear when the House bill will receive a hearing, though it could be as early as next week.
Groundbreaking scheduled for new USD 383 elementary school
Monday's agenda included a brief update on some of the USD 383 bond construction projects, most notably with a groundbreaking date now set for the new Oliver Brown Elementary in Blue Township. Assistant Superintendent Eric Reid.
"Groundbreaking for Oliver Brown Elementary is February 7 at 3:30 p.m. and you guys as always are invited," he said.
A key feature of the new elementary school is two storm shelters at the school including one which will be centered around its life-skills program for those with disabilities.
"Those students in those programs that are hardest to move back and forth safely, we'll be able to put them in place and lock down. We'll have two shelters, one addressing the special group of our students and the other addressing the rest of the school as a whole," Reid said.
The school is anticipated to be open in time for the fall 2021 semester.