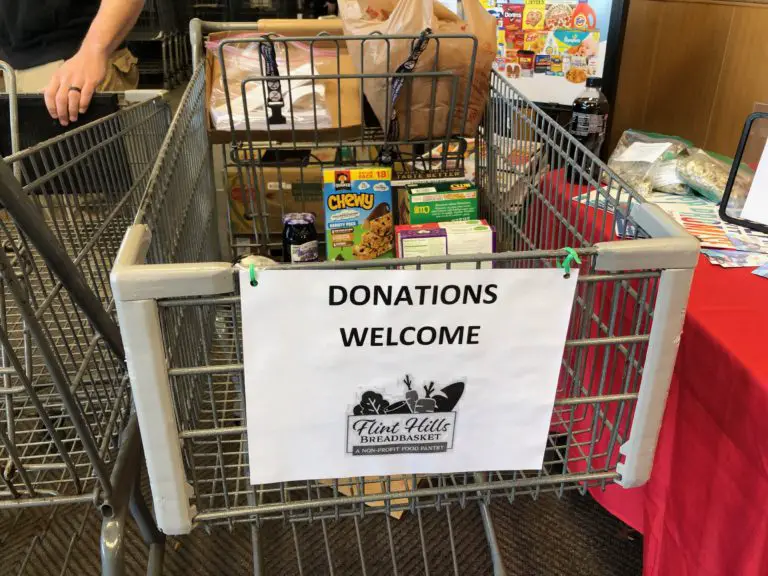 The Flint Hills Breadbasket is hoping to cash in on the Kansas City Chiefs being in the Super Bowl this weekend.
The nonprofit organization is holding its annual Souper Bowl collection effort this week, partnering with area schools and churches as they try to collect 10,000 pounds of food. Executive Director Maribeth Kieffer says they'll also be staking out all Manhattan grocery stores this Saturday for soups.
"One of the nice donations when it comes to soup is the ready-to-eat soup because the children at home can just pop the top and warm it in the microwave or stove," she said.
Ready-to-eat soups are also popular for those who are homeless. The Breadbasket also accepts the condensed canned soups. In addition, Kieffer says they're always in need of juices, jellies and pancake mix, items that are popular commodities.
Bill Kennedy helped start the annual Souper Bowl collection effort in 1996 along with late Kansas State University basketball great Jack Parr. Kennedy says a lot of Manhattan residents might not be aware just how prevalent hunger is in the area.
"In my prior life as county attorney, I became so familiar with that issue. It is a real problem and we have this wonderfully organized situation with the Breadbasket for distribution," he said.
Collection efforts have been ongoing all week at Manhattan schools and churches. On Saturday, that effort shifts to all of the Manhattan grocery stores where volunteers are being positioned to encourage shoppers to donate to their effort.
"I do want to say thank you to the Knights of Columbus from all three locations here in town because we have a lot of other volunteers but they do take charge of this and this is their collection effort as far as finding volunteers and coordinating with the schools," Kieffer said.
Last year's event saw the Breadbasket collect 8,500 pounds of food donations. With more local attention on the game because of the Chiefs, Kennedy is optimistic they'll crush last year's total as well as this year's goal of 10,000 pounds.
"I think we're going at least 2,000 (pounds) over, that's my guess," he said.
Kieffer says those who are new to the community and in need should visit the Breadbasket at 905 Yuma Street. There they can fill out an application, but is restricted to those with a Manhattan address in Riley or Pottawatomie County.