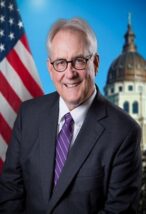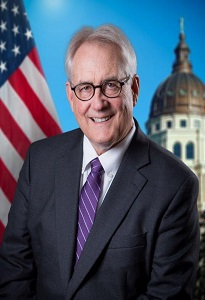 After a bill to expand Medicaid in Kansas fell one vote shy of being debated on the Senate floor during the 2019 legislative session, State Sen. Tom Hawk (D-Manhattan) is optimistic for it to get through both chambers in 2020.
Speaking on KMAN's In Focus Monday, Sen. Hawk said Gov. Laura Kelly and Sen. Jim Denning have been in negotiations on a bipartisan proposal that may get done as soon as the end of this week.
Last year it was estimated some 150,000 Kansans stood to benefit from Medicaid expansion if passed. Sen. Hawk says he believes the issue extends even further, as a potential benefit for the state's rural hospitals.
Hawk says he expects the full legislature to take up Medicaid expansion early on in the session.
In addition to Medicaid expansion this year, the legislature may look at options to fund some of the state's most critical needs after December revenues beat projections for an 11th consecutive month.
According to the Kansas Department of Revenue, December tax receipts totaled $756 million, with the state exceeding projections by $50 million for the fiscal year. Sen. Hawk, who serves on the legislative budget committee, says last year the committee received a budget profile showing a projected deficit in 2023 of $300 to $500 million, but says that no longer looks to be the case.
Hawk says the improved projections give state leaders some flexibility when it comes to funding some of the state's most critical needs. Hawk says some proposals he's heard range from the elimination of sales tax on food to the decoupling of income tax.
Sen. Hawk says he's also interested in renewable energy. Last month he and Sen. Randall Hardy (R-Salina) were part of a delegation of Midwestern legislators invited to Germany to learn about the country's move to a low-carbon economy.
The trip included tours of Berlin's hydrogen hybrid power plant as well as an off-shore wind park in Bremerhaven. Hawk says Germany has made a significant commitment to renewable energy, vowing to close its nuclear power plants in two years and its coal plants by 2038. Hawk says Germany's strides are impressive, but likely wouldn't work in the U.S. or in Kansas due to a lack of comprehensive planning.
Hawk says a Renewable Portfolio Standard (RPS) started under former Governor Mark Parkinson aimed by 2020 to have 20 percent of Kansas electricity come from renewable energy. Today 36.2 percent of the state's electricity comes from wind and the state is now a net energy exporter in the state. In terms of wind energy, Hawk says there are questions surrounding storage but he remains optimistic about the state's ability to lessen its dependency on coal.
Hawk remains a ranking minority member of the Senate Utilities Committee. The 2020 Kansas Legislative session begins on Jan. 13. You can listen to Sen. Hawk's full In Focus interview here.