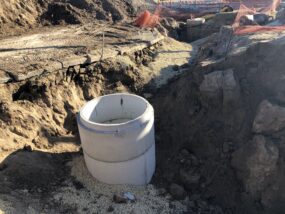 Work continues, albeit slow, on a sinkhole at the intersection of Bluemont Ave. and Hayes Dr..
Manhattan City Manager Ron Fehr said last month they'd hoped to have work completed by mid-January, but now says there are some factors complicating that.
"We had to put in a third de-watering well at that location. We were hoping that once the releases at Tuttle Creek Reservoir went down that it would help start to drop some of the groundwater in that basin, and it really hasn't done that," he said.
A large sanitary sewer line that was installed after an old line collapsed, is about 20 feet deep. As a result, crews have been de-watering the area around it in order to do the installation, adding to the complexity of the project. Fehr says weather pending, the project shouldn't be too far from completion.
"We are continuing to de-water and to bypass pump and we do have flow there. I'm hoping close to the end of the month or shortly thereafter we'll have that wrapped up," he said.
Fehr also says there may be temporary patches on the roadway once the project is completed.