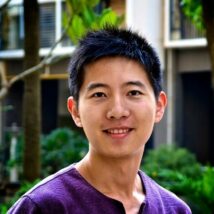 OAKLAND, Calif. — A Kansas State University graduate from China was killed New Year's Eve while chasing a thief  who had stolen his laptop at a California Starbucks.
Shuo Zeng, a 2015 K-State graduate, was working in the California tech industry. The Kansas City Star reports he had been planning to celebrate his 34th birthday and the coming of the new year with a group of friends. He was working on his laptop on the morning of Dec. 31 when a suspect stole it. Zeng ran after the thief, was dragged by the getaway vehicle and later died.
Oakland, California police arrested two men Thursday in connection to the incident. The Alameda County District Attorney's Office has charged 22-year-old Byron Reed and 21-year-old Javon Lee with second-degree robbery. Reed was also charged with special circumstance murder and Lee was charged with involuntary manslaughter.
According to his Linkedin page, Zeng was a research scientist for Aspera, an IBM company. He received his doctorate from K-State in physics.
Investigators are still determining if additional suspects were involved.