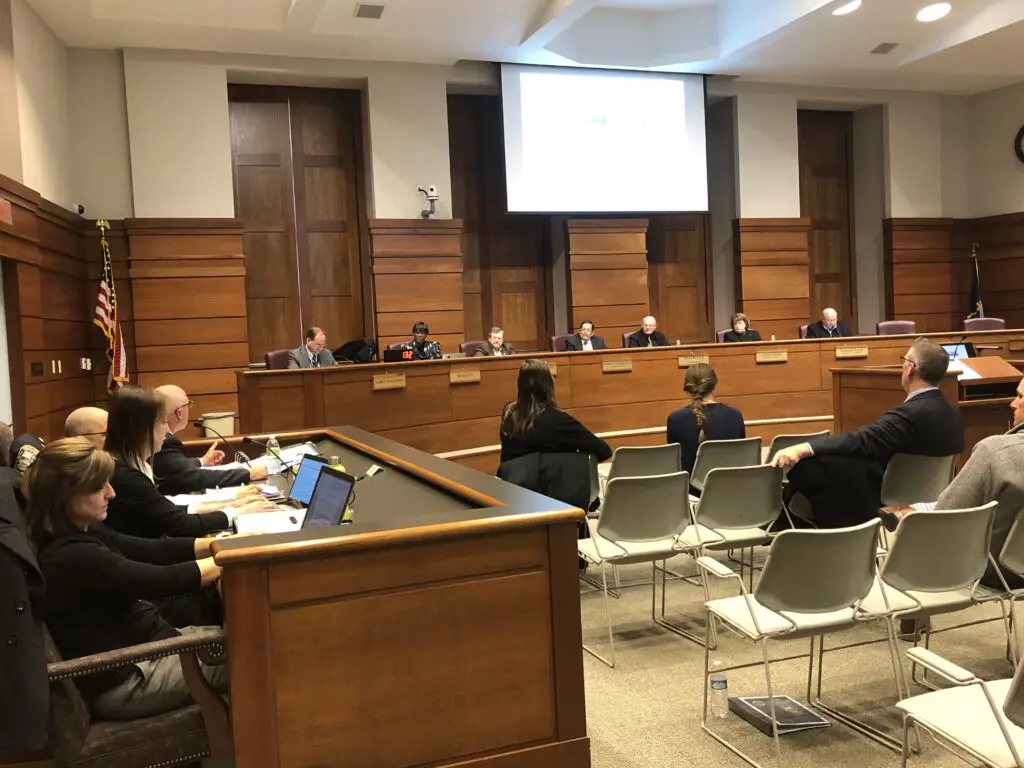 VEHICLE PURCHASES APPROVED
The Riley County Law Board on Thursday approved the purchase of eight new police vehicles in 2020.
RCPD will purchase six 2020 Dodge Durangos, one 2020 Dodge Charger and a 2020 Ford Transit at a cost of $311,205.00. The purchases are made using state contracting prices, which Capt. Josh Kyle says are open for five years with specific vendors, for specific vehicles under specific conditions.
"Frankly the prices you get through the state contract, you can't compete with due to the volume and nature of the contract itself and the terms of those contracts," he said.
Only one vehicle requires immediate replacement. Kyle says the department's 2010 Toyota Corolla, assigned to the Investigations Unit scored the highest on its vehicle replacement index with a 28.5 rating. Any score above a 30 suggests immediate replacement is recommended. It will be replaced by a 2020 Dodge Charger.
"It's the only pursuit rated sedan available under state contract. That's the vehicle we have to make a decision on soon because if you don't get your order in soon you aren't going to get one," Kyle said.
RCPD checked out the possibility of getting a used Charger from KHP but determined it was a better value for them to purchase one new under the state contracting price. During KMAN's In Focus Friday morning, Director Dennis Butler stated the vehicle is more equipped to serve officers who may become involved in police pursuits from a safety standpoint.
The cost of that vehicle is $25,846 under the state contract. The total cost for all eight vehicles came in $41,000 over budget for the year ($270,000), but under the 5-year average of $362,940 for vehicle purchases. The budget for yearly vehicle purchases is underfunded by an estimated $85,000.
MEMORANDUM OF AGREEMENT SIGNED BETWEEN KSU POLICE, RCPD
The Riley County Law Board has approved a memorandum of understanding with the Kansas State University Police Department, despite some concerns with addendums within the contract
The issue had been tabled from a November meeting due to concerns with disclaimers of liability, privacy of student records and an anti-discrimination clause. Those issues were brought up by Law Board member Robert Ward, who reluctantly supported the MOU Thursday.
"I still have some serious personal reservations about this addendum being hoisted on us by the university. I'm offended by at least three sections. I don't think it should be rammed down our throats, however I do appreciate Mr. Gillespie's legal opinion on the subject, and I will not object to the agreement," he said.
Director Butler says even though he disagreed with some of the K-State Police Department's addendums, it was the legal counsel's opinion that no changes be made to the memorandum.
"Although there are some requirements by KSU Police that we're not big fans of, they don't sign contracts unless they're on there, period," he said.
Butler says the memorandum creates more efficiencies between the two police departments. It will give jurisdictional obligation to KSU Police to respond when necessary while traveling off campus property if there is an incident requiring law enforcement interaction.
The memorandum is reviewed annually. Any changes must be agreed upon by both police departments and ultimately approved by the Law Board.
The Riley County Law Board will meet again on Feb. 18 at noon in the Ogden Community Center, continuing the Law Board's mission to bring meetings to members of the public living outside of Manhattan.
During Thursday's meeting, the Law Board also recognized the promotions of Corporal Steven McDiffett and Assistant Director Kurt Moldrup. Photos are shared below.