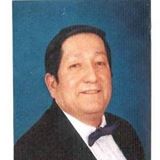 Riley County Commission Chair Marvin Rodriguez has filed for re-election.
He filed for re-election Monday for the District 2 seat which he's held since 2016. Rodriguez says he still has some unfinished business left to do, which is why he decided to run again.
"The money that the state legislature took away from the Local Ad Valorem Tax Reduction fund, we're starting to hopefully get some recognition on that and movement on the Dark Store Theory. We're not done with the radio upgrades, so I want to make sure that gets done this year," he said.
Rodriguez says he has enjoyed working with people who volunteer their time for the public and volunteering himself. He added one of the jobs of the commission is to help out the community.
"No matter what it is there are many people who have a lot of questions and we want to make ourselves available to them," he said.
He also discussed some of his proudest accomplishments since being elected.
"The fire house which was really needed, the radios which is going to make our emergency services more efficient and bringing in the new RCPD director," Rodriguez said.
Rodriguez joins fellow commissioner Ron Wells, who is also seeking re-election this fall.