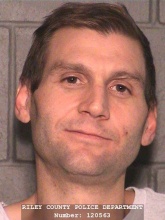 The Riley County Police Department says a Manhattan man with several warrants, who had eluded capture for quite some time, was apprehended over the weekend in Johnson County.
Jesse Sexton was brought into custody Saturday on a charge of obstructing the legal process. No bond was issued. Sexton has a court appearance scheduled at 1:30 p.m. Tuesday in Johnson County District Court.
Earlier this month, Sexton wound up on the Riley County Police Department's Most Wanted List for multiple warrants including failure to appear on numerous occasions, aggravated assault on a law enforcement officer, criminal threat, 11 counts of theft and eight counts of theft by deception. His warrants have a bond totaling $120,000 in Riley County alone. He also has a criminal case pending in Pottawatomie County.
RCPD thanked those who called in tips as they attempted to locate Sexton.