Hundreds of local business and community leaders all got together for the 95th annual Manhattan Area Chamber of Commerce Banquet on Friday.
The chamber of commerce had a change in leadership from past chamber board chair Wayne Sloan to new chamber board  Larie Schoap.
The Clyde Jones Volunteer of the year award was also awarded to co-owner with New Boston Creative Group Lisa Sisley.
Also for the first time a couple won the Citizen of the year award. The couple was CivicPlus owners Ward and Brenda Morgan who accepted the award via video.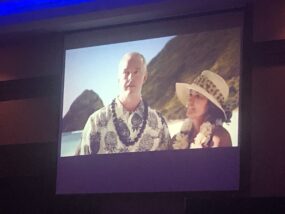 Sisley was shocked to learn that she won and did not know until the award was announced. Sisley believes in the importance of volunteer work.
Importance of volunteering
Sisley is also pleased with the amount of volunteer work done in Manhattan.
What you get back for volunteering
The new chamber of commerce chair Schoap believes retaining K-State graduates is important.
Schoap also gave her reasoning for accepting the position.
New Young Professionals program
The Manhattan Area Chamber of Commerce unveiled its newly revamped Young Professionals program at its 95th Annual Meeting and Banquet Friday.
Young Professionals Program Chair Blade Mages says the program is meant to engage young business professionals with each other and the community.
Hype is divided into five groups with each offering a different way for members to get involved.
Mages says this approach will help will provide a wider array of activities.
He also says each group is run by members within the program, which gives participants more ownership over what they are doing.
For more information about membership fees or ways to get involved in Hype, visit
hypemhk.com
.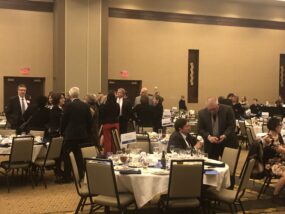 Derek Simmons and Derek Darr contributed to this article.