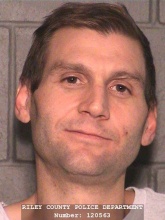 In a follow up to a story from earlier this week, the Riley County Police Department has now placed 33-year-old Jesse Mark Sexton on its Most Wanted List.
Sexton has multiple Riley County warrants for failing to appear, aggravated assault on a law enforcement officer, criminal threat, 11 counts of theft and eight counts of theft by deception. His warrants have a bond totaling $120,000.
On Tuesday, Riley County Judge William Malcolm increased Sexton's bonds on each count he failed to appear on this week. He also has pending charges in Pottawatomie County. He was not in court Tuesday to face his charges.
Anyone with knowledge of Sexton's whereabouts can call Crime Stoppers at 785-539-7777 or 1-800-222-TIPS (8477).