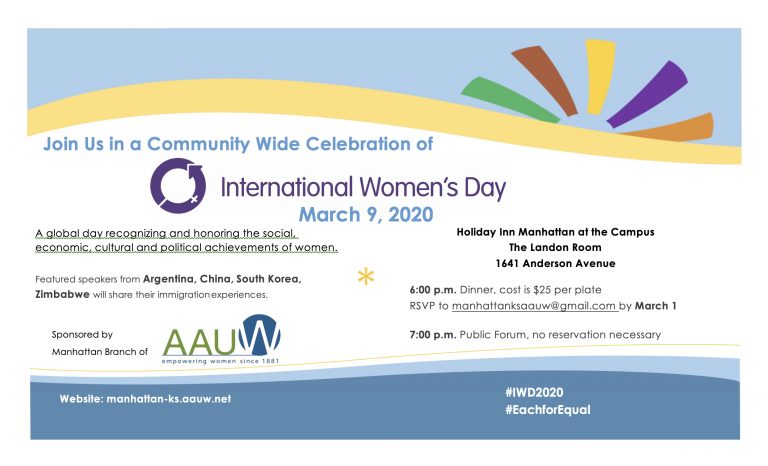 The Manhattan Branch of the American Association of University Women will hold a panel discussion Monday evening in celebration of International Women's Day.
The event, planned for 7 p.m. is at the Holiday Inn on campus and will feature four women hailing from Argentina, China, South Korea and Zimbabwe. Event Co-Chair Mary Stamey explains what the discussion will entail.
"Well ask them about the immigration process that their family went through, either as personal individuals or as their parents or grandparents have immigrated to our country. We'll ask them what barriers or what welcome they encountered and what brought them here to begin with," she said.
Among them is K-State math professor Marianne Korten from Argentina.
"Most of us come here with a suitcase and that's how it starts. I came with my little daughter who is now a veterinarian in San Diego and I have three little kids now, who are triplets," she said.
Korten has been in the U.S. for over 20 years having moved to Manhattan from Kentucky for work. She says early on she noticed some certain differences between her home country and the U.S.
"I definitely faced some cultural differences being a highly educated single woman with an accent and a kid," she said.
Korten says some of those challenges have since subsided. But she still recognizes key differences with how women, in particular mothers are viewed culturally in the two countries, perhaps due to Argentina's close cultural ties to Italy.
"The culture is more respectful and accommodating to mothers in Argentina. Also mothers have more authority over their children. There is no such thing as the mother being the doormat of the kids. The mother's the boss," she said.
Another panelist who will speak is Fanny Fang, a partner in the local Asian Market from China. Fang was actually born in the U.S. and raised in Manhattan by her parents, who immigrated from a poor village in eastern China. Fang says in her family women have always been workers and providers.
"For all the generations of women from my family we've worked and we've also worked two jobs. We go out to get the food or now it's to make money and then we come home and take care of the family," Fang said.
Fang's parents were entrepreneurs who came to New York initially before moving to Ohio where they started up a Chinese restaurant before moving to Kansas. Prior to being in Manhattan, the family operated a Chinese restaurant also in Salina. Fang shares the story of how her father purchased the current Asian Market property over 20 years ago after he had been approached by the property owner.
"My dad went to the owner and said he only had $200,000 cash which he actually didn't have – he had to ask family for financial support. He said if I give you this, I will pay you the rest ($400,000) in six months. If I don't, he said you can take your property back," Fang said.
The rest was history and the Fang family has operated the Asian Market and accompanying Chinese buffet ever since.
The rest of the panel Monday includes K-State doctoral student in chemistry Kelly Shunje of Zimbabwe and Sunny Song, a STEM coordinator with Ogden Elementary, from South Korea.
The panel discussion and Q&A session is free and open to the public. Manhattan Mayor Usha Reddi, an Indian immigrant herself, will moderate.
Tune in Monday morning to KMAN at 9:30 a.m. for our full interview with Fang, Korten, Stamey and Co-Chair Marlene VerBrugge.
To learn more visit manhattan-ks.aauw.net.