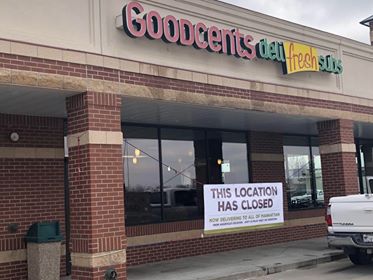 The financial impact of COVID-19 is starting to be felt in the Manhattan area.
Goodcents has announced the closure of one of its two Manhattan restaurants. The company said in a release Friday that the financial realities during the ongoing pandemic were too much for the 900 Hayes Drive location to overcome. The last day of business was Thursday, finishing six years of business at that location.
Franchisee Jim Jacobs says they did so with a heavy heart, but will continue to keep the Aggieville location open.
Goodcents becomes one of the first Manhattan area businesses to announce a permanent closure of one of its locations.
Goodcents has operated for 30 years in the Midwest. It was founded in Lenexa and is headquartered in DeSoto.