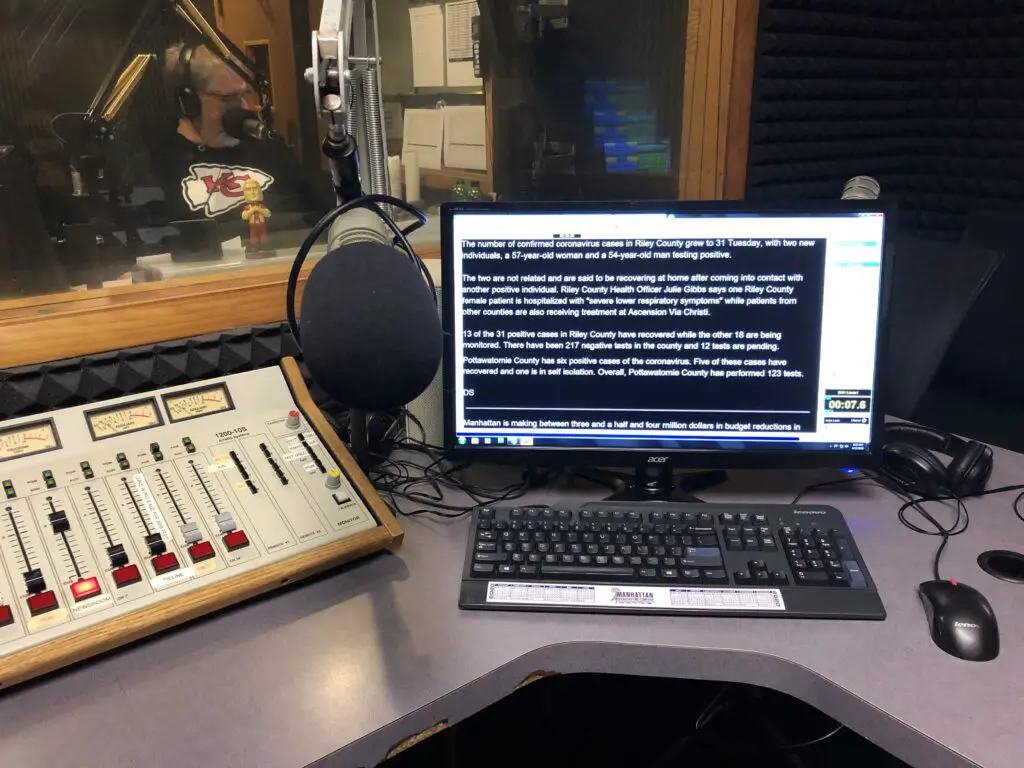 By Gloria Freeland, Assistant Professor of Journalism at Kansas State University
MANHATTAN — People have always depended on their local media for government, arts, sports, lifestyle and health news, but the current COVID-19 crisis has highlighted how absolutely crucial those media are in providing good, accurate information to their communities.
"Local media help hold their communities together," said Gloria Freeland, director of Kansas State University's Huck Boyd National Center for Community Media and assistant professor of journalism and mass communications. "They are especially important now in the midst of this crisis that has turned everyone's world topsy-turvy."
But what many don't realize is that these local media outlets — newspapers, broadcast stations and others — are coping with the same issues as other businesses, Freeland said. They are struggling with lost advertising revenue, trying to maintain staffing levels, working from home, caring for children and older family members, and trying to stay healthy themselves.
Some of those issues were discussed in a recent remote meeting with faculty members of Kansas State University's A.Q. Miller School of Journalism and Mass Communications; Emily Bradbury, executive director of the Kansas Press Association, or KPA; Kent Cornish, executive director of the Kansas Association of Broadcasters, or KAB; and Chad Stebbins, executive director of the International Society of Weekly Newspaper Editors, or ISWNE.
These industry professionals said local media organizations need help, whether it comes in the form of getting more people to subscribe or getting community members to help with website updates, social media, news and feature articles, photography, video and audio messages, and other tasks. They also need community leaders and ordinary citizens to come forward to lend their voices to support their local media outlets. In addition, they need innovative revenue ideas.
For example, the KPA provided text and a banner headline, "When You're On Your Own, We Are There With You," that member newspapers have used to alert their readers that they are the ones who stand by their communities through thick and thin.
The KAB has provided information coverage and programs available in daily emails to members and is also involved with press associations around the country in engaging Congress on the need for broadcast-specific funding through advertising to help, particularly smaller market stations and newspapers.
The KPA and KAB also have been helping members sort through Small Business Association loan paperwork and other financial and legal matters. ISWNE members have been sharing ideas through a listserv, and Stebbins plans to publish a complete COVID-19 issue of ISWNE's quarterly Grassroots Editor newsletter.
Area media also are finding ways to cope.
Ned Seaton, publisher and editor-in-chief of The Manhattan Mercury, said the paper has maintained its newsroom staffing and shifted one sports reporter over to news. Ad staff members are putting together guides of businesses that remain open, sponsorship pages that have coronavirus-related content and more.
"I'm really proud of the volume and quality of information we're publishing," Seaton said. "We're also pumping it out on the web immediately, and we've taken the paywall down temporarily to allow public access to the information. That is going to have to shift back soon since we do want to remain in business."
The newsroom is working remotely, with the exception of the editor using the layout software. The ad, office and circulation staffs are largely remote, Seaton said. Press operators and mailroom staff members go in during limited hours but are spaced out to maintain social distancing.
He said mostly what the paper needs from the community are subscriptions.
"Certainly, lots of people have voiced support and I can see that the community understands the importance of local professional journalism in a way that it probably hasn't for some time," Seaton said. "We're in this for the long haul."
Corey Dean Reeves, the general manager of Manhattan Broadcasting Company, said his radio stations have dedicated COVID-19 news updates at 7 a.m. and 5 p.m., have a rotation of interviews in those updates from county officials, local health professionals and emergency responders, and have news feeds that are a constant stream of updates and new information.
"Advertising is difficult as local businesses struggle with income," Reeves said. "We also lost major events in the Big 12 and NCAA tournaments, the cancellation of K-State baseball, and the postponement of the beginning of the season for the Royals. We've been flexible with our clients in moving around their advertising and messaging, as well as running some different programs and special offers for them to help with budget in this time of uncertainty. We want local business to succeed, and we're trying as often as possible to champion supporting small locally owned businesses, regardless of if they are current advertisers."
Reeves said it's tough to cope with all the challenges.
"We're living this along with the business community and the public," he said. "We hear all of it: School administrators trying to shift an entire semester of school to online, local businesses that have supported families for years concerned about how they will stay open and what the future looks like. We hear from health professionals and first responders tasked with daily briefings on the spread and how to adjust and combat it.
"And more than anything else we hear the struggle and frustration of listeners, our community members who want nothing more than to get out of their homes, to see their friends and family in a way that seems normal. We're tasked with sorting it all out and trying to tell the story. It's not always easy. We're encouraging our staff to take some time for themselves when they feel like they're getting burnt out. But it's hard to turn it off and there's constant demand for new local information. I feel like we're doing the best we can. And for now, that's all we can ask for."
The weekly Riley Countian, circulation a bit less than 1,000, plans to go ahead with its graduation pages for the two high schools it covers, even though there will be no official graduation ceremony.
"We are doing home-school photos and inviting people to send them in," said Donna Sullivan, Countian editor and publisher. "All will be published and entered into a drawing for a family pizza party at the end of May. We are planning to still do our graduation issue. Just this week I will do a feature where people who now have more time on their hands to work on hobbies can send in their photos, too. My motto is 'Community Proud, Community Strong… and Keeping Us All Connected,' and I am doing everything I can to accomplish that. I'm working to make sure pertinent COVID-19 information is also included in the paper."
Sullivan is also managing editor of Grass & Grain. For that publication, she is working from home, conducting phone interviews for stories and using photos provided by her subjects when possible.
"I communicate with my staff via email daily, and we hold a Zoom meeting once a week. I also have a Zoom meeting for just the salespeople once a week," she said. "They are continuing to work diligently to find advertisers, but it's definitely more challenging than usual. I tell them to always communicate a position of strength. People have depended on Grass & Grain for 65 years and we are committing to riding this out and continuing to be there for them. We aren't going away."
Freeland said the passion these media people have for their communities is echoed throughout the state and country.
"The desire to help their communities weather the COVID-19 storm seems to be the theme for media here," Freeland said. "I just hope communities appreciate and support everything their local news organizations are doing to keep them safe, healthy and informed."