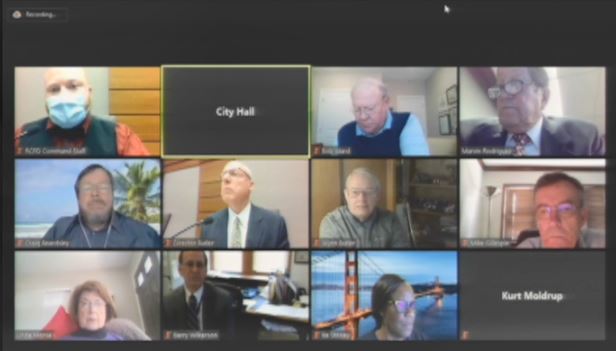 Facing uncertainty ahead of the 2021 budget year, the Riley County Law Board Monday directed Riley County Police Department leadership to bring back a zero budget proposal to next month's meeting.
Law Board member and Manhattan City Commissioner Wynn Butler says with no sales tax coming in and grim revenue projections, the increase for RCPD must be zero.
"The reason is quite simple, who's paying that free? It's the citizens we put out of work basically," he said. "We've got most of our small businesses closed, restaurants are closed, the university is closed. Where are we going to get the money?"
Law Board member and Manhattan City Commissioner Linda Morse says creative measures may be needed going forward. She suggested Riley County provide some early revenue estimates from property taxes as soon as May.
"We need to approach this incrementally. We can't deal with this kind of budget shortcoming on a month-by-month basis. I think we need to think about special meetings and do some kind of a financial forecast," she said.
Property tax receipts are due May 10. Morse suggested having revenue estimates as early as 10 days after that deadline to begin projections. The Law Board also didn't rule out potential deeper budget cuts in the future, depending on how significant revenue shortfalls are for the remainder of the year. RCPD Director Dennis Butler cautioned that significant cuts would result in layoffs.
"If the board is collectively asking me to bring back 10 and 15 percent budget cuts, just know in advance that will involve layoffs in personnel if we do that," he said.
The Law Board collectively wasn't interested in those deep of cuts, suggesting a zero budget be a starting point for all future discussions.
"This is zero, that's the starting point. It may have to go negative depending on what numbers come in," said Wynn Butler.
Law Board member Craig Beardsley says not cutting the budget would result in backlash from the public, who foot the bill for RCPD expenses.
"We really need to tighten our belts because it's just not going to be there. If we don't tighten our budget and do our part, we do look at some sort of push back from citizens," he said.
A zero budget would wipe away the nearly $900,000 proposals which included a 1.5 percent cost of living adjustment for RCPD employees, in addition to over $15,000 for a part-time clerk and $40,000 for guns and crime equipment.
Director Butler says he will bring a zero budget for presentation to the Law Board at its May 18 meeting. The Law Board typically finalizes its budget in June, before the City of Manhattan and Riley County make set its respective budgets.