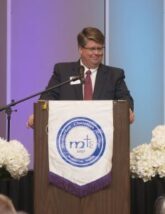 As higher education institutions grapple with a possible return to in person learning this fall, projections remain uncertain with how enrollment will be impacted.
Manhattan Christian College President Kevin Ingram tells KMAN that recruiting has actually ticked up, with April applications for the fall up 21 percent versus last year. Acceptances are also up 45 percent over last year, according to stats released last week.
"If this projects out, there's some indicators we could have a good freshman class in the fall, which could help our overall enrollment," he said.
Virtual tours are helping those potential recruits get a feel for the college in the interim. Ingram says looking back on how quickly the school implemented an all-online curriculum, he believes it was a success, given there wasn't a lot of preparation involved.
"Obviously we changed some of the tools and how we did that. I think it went very well overall and as well as it could given the circumstances," he said.
Ingram says looking ahead, MCC is planning about a 3 percent increase in tuition for the upcoming school year to keep up with inflation, including but not limited to food, especially beef. Ingram says the college doesn't have the wiggle room to freeze all increases based on the current market.
He says they do have the ability on the other side, in terms of assisting students with scholarship opportunities. One in particular is the endowed Game Changer scholarship to help fill gaps students may experience with affordability.
"That is money we have from an endowed fund that we can give and say 'here's an extra $2,000 to fill that gap, we'd love to have you at college'," he said.
The fund started at zero and now has about $140,000 available. Tumbling stock prices on Wall Street could jeopardize some access to those funds, according to Ingram, but says the college is set up well with that endowment.
More information can be found on MCC's web page.