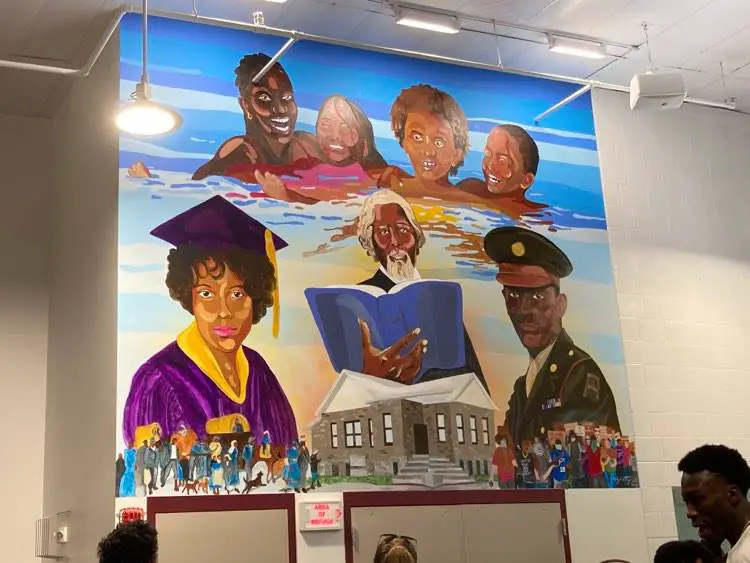 The final piece of the new Douglass Recreation Center was unveiled Saturday as part of the annual Juneteenth celebration in Manhattan.
A mural, entitled Triumphant, was designed by Wichita native EuGene Byrd III of Atlanta, Georgia. It honors the strength, pain, joy, faith, knowledge, sacrifice and perseverance of black residents in the community from past to present. Where the center now sits in southern Manhattan, was once where African Americans predominantly resided, says Douglass Center Director Dave Baker.
"That's all changed in the last 20 to 30 years and so one of my goals was to do as much as I could to preserve that history. One thing I've said about history is that once it goes away, it does not come back," he said.
The mural depicts activist Benjamin "Pap" Singleton in the center, who helped establish African American communities in Kansas. Speaker Betty O explained to those in attendance Saturday for the unveiling, the significance of the children swimming at the top of the mural.
"The kids at the top pay tribute to the site of the first black public swimming pool built in 1939 at this very location," she said.
The rest of the mural portrays the Bethel AME Church, a graduate, a World War II soldier and as well as Exodusters migrating to Kansas and 2020 protests against police brutality.
Manhattan's annual Juneteenth celebration originated in Douglass Park when it began in 1989, shifting to City Park in recent years. Following the completion of the new recreation center on site, Baker said it made sense to bring the festival back to where it began.
"Juneteenth is one of those celebrations that we should all be celebrating anyway, but having it back at the Douglass Center and unveiling the mural depicting the history of this area has been phenomenal and just a great day," he said.
Several notable dignitaries were in attendance Saturday, including 66th District State Representative Sydney Carlin (D-Manhattan), who weighed in on the new artwork.
"It is absolutely breathtaking. I hope that the community, when they come to the Douglass Center, that they will come and enjoy that mural. It is really, really special," she said.
Carlin adds that the old Douglass Center was well used and hopes newer generations will feel comfortable coming to the new facility for their activities.
Photos from Saturday's events taken by KMAN's Brandon Peoples.
This slideshow requires JavaScript.
This year's Juneteenth also had an historical significance following Congressional approval signed by President Joe Biden, making Juneteenth, a federally recognized holiday.
"I think it's something that should've been done a long time ago. We know how difficult it was to get a Martin Luther King Day. Juneteenth was way before then. I hope that we can continue to build on race relations," Baker said.
Lunch was provided to patrons Saturday by members of the Riley County Police Department, who served up over 120 hamburgers, along with ribs and sides provided by Douglass Center members. HyVee provided meats at a discounted cost to RCPD for the event.
"We've been serving food at these events probably the last three, four or five years. It's just been in the last year or two that we've turned this into a real official function for RCPD. We made a big focus that food is going to be one of the major ways we connect with people, within the community," RCPD Capt. Josh Kyle said.
It was RCPD's first large-scale cookout of 2021.
In addition to Saturday's cookout, Juneteenth activities included a unity walk, art auction, the kids' money drop and a car wash contest