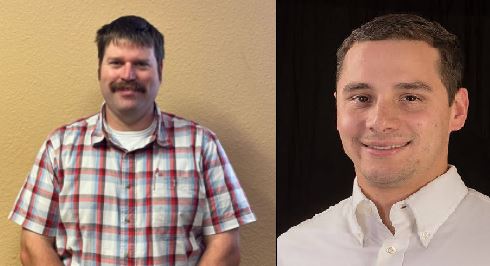 Two new deputy fire chiefs have been named to fill vacancies with Riley County Fire District No. 1.
John Martens and Doug Russell will fill an open deputy chief position and replace the position vacated earlier this summer by former Fire Chief Michael Regal, who resigned for a position in South Carolina.
According to current Director Russel Stukey, the move creates more efficiency in Fire District No. 1, while also trimming more than $25,000 from the annual payroll.
The department was restructured after the retirement of longtime Emergency Management Director Pat Collins in 2020, who also served as the county's fire chief. Commissioners had agreed to split the positions, with an emergency management director, a separate fire chief and deputy fire chief. Upon Regal's departure in June, the commission adjusted the leadership team once again, to include the director and two deputy fire chiefs.
Russell will serve as Deputy Fire Chief of Operations. He has been a member of the department since 2009, most recently as a captain at Station 4 – Keats.
Martens will serve as Deputy Fire Chief of Administration. He was station lieutenant at Fire Station 10 – University Park and has 13 years of firefighting experience. The two men will oversee more than 150 volunteer firefighters in the district.