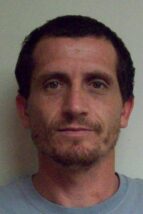 Geary County authorities apprehended a wanted man Tuesday morning after he briefly eluded police officers.
The Geary County Sheriff's Office says David Paul Jones, was brought into custody shortly before 11:30 a.m. He was wanted out of Dickinson County for domestic battery.
Authorities say Jones ran from police after he had been spotted near the Otter Creek Bridge on Lyons Creek Road, south of Junction City. He was located about an hour later where he was arrested without incident.