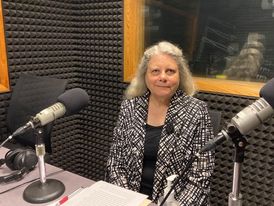 The longtime executive director of the Riley County Historical Museum has died.
Cheryl Collins passed away Wednesday morning at age 68 following a brief illness, according to the Manhattan Mercury. She served as director of the museum for more than three decades and was a frequent guest on KMAN's In Focus, where she made her final appearance back in July. She started at the museum in 1981 and became director of the museum in 1988.
"We are completely heartbroken. She was one of the best and is so missed already," said Allana Parker, curator of design at the museum in an email Thursday.
"There is no one I know that had the knowledge, background, love and compassion for local history as she did," said Riley County Commission Chair John Ford. "It was always a marvel to watch her light up when discussing Riley County's past."
Collins earned her bachelor's and master's degree in history from K-State.
According to the Kansas State Historical Society, Collins had also served as site administrator of the Goodnow House State Historic Site since 1996. It is operated through a partnership between the Kansas Historical Society, Riley County and the Riley County Historical Society.
Collins is survived by her husband G.W. Clift and son John.
Yorgensen-Meloan-Londeen Funeral Home of Manhattan is in charge of arrangements. A funeral will take place Tuesday at 1:30 p.m. at the First Methodist Church.