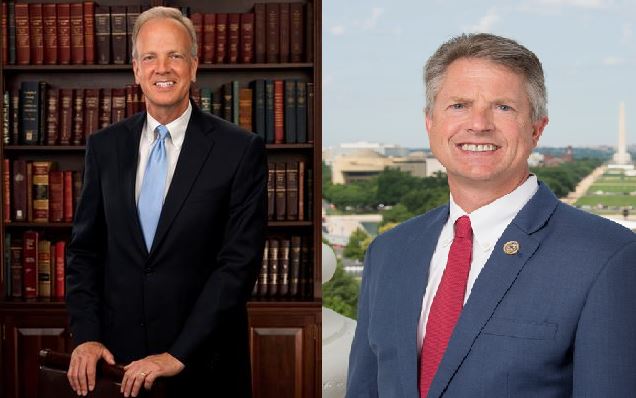 President Joe Biden on Thursday announced perhaps the most sweeping new federal vaccine requirements for as many as 100 million Americans to curb surging COVID-19 numbers.
The president's plan, requires businesses with 100 or more employees to have workers fully vaccinated or face weekly testing. The Occupational Safety and Health Administration would oversee the requirement and businesses that fail to comply could face fines up to $14,000. The rule also requires that large companies provide paid time off for vaccination.
Biden's plan faces an almost certain legal challenge. Top Republican Kansas lawmakers are already criticizing the president's approach. Senator Roger Marshall Thursday called it "an all-out assault on private business, our civil liberties and our entire constitutional system of limited government." Senator Jerry Moran called the president's plan "extreme government overreach."
Roughly 17 million workers at health facilities that receive federal Medicare or Medicaid benefits also will have to be fully vaccinated under the plan.
.@POTUS' vaccination decree is an all-out assault on private business, our civil liberties, and our entire constitutional system of limited government. This will likely get struck down in the courts – but is a terrifying glimpse of the new Marxist Dem Party.

— Dr. Roger Marshall (@RogerMarshallMD) September 9, 2021
I am vaccinated and I will continue to urge Kansans to get vaccinated. These decisions should be left to each individual, and that decision should be guided by conversations with trusted doctors and not dictated by bureaucrats in Washington, D.C.

— Senator Jerry Moran (@JerryMoran) September 10, 2021
Furthermore, this government overreach comes at the expense of small business owners who are trying to strike a balance between keeping their businesses safe and open, and respecting their employees' personal health decisions.

— Senator Jerry Moran (@JerryMoran) September 10, 2021
This mandate will also only deepen divisions in the country regarding the vaccines, as well as make it even harder for employers to find workers and cause some employees to drop out of the workforce in protest.

— Senator Jerry Moran (@JerryMoran) September 10, 2021