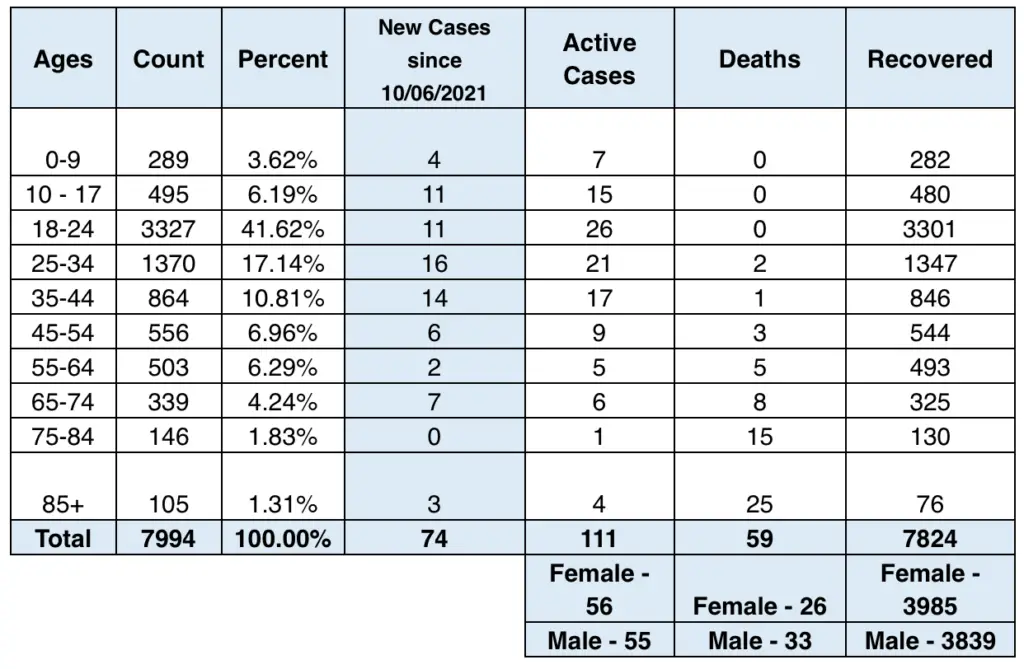 The Riley County Health Department has reported 74 new COVID infections and 44 more recoveries in its weekly report Thursday.
The health department says it's monitoring 111 active cases. The percent positive rate for new infections ticked up slightly to 4 percent, up from 2.5 percent the week before.
As of Thursday seven COVID-positive patients were under care at Ascension Via Christi. One of the patients is in the Intensive Care Unit. Vaccination status wasn't provided for the hospitalized patients.
Since reporting began in March 2020, Riley County has recorded nearly 8,000 positive cases.
Vaccine Operations: 
The health department says it has fully vaccinated 22,674 of the 64,333 eligible Riley County residents (35.2%). The figure does not factor in those who have been vaccinated at pharmacies and other medical facilities in the area.
Testing
Rapid and saliva testing is available for free. The Kansas Department of Health and Environment continues to offer testing Monday through Friday at the Manhattan Town Center from 8 a.m. to 5 p.m.
Rapid testing is available at the health department for symptomatic individuals and those who utilize this are encouraged to call the screening line to schedule an appointment 785-565-6560. Testing is also available 9 a.m. to 12 p.m. Saturdays at the health department.
Riley County Statistics for October 14
Total positive cases in Riley County Residents: 7,994

Total active: 111

Total recovered: 7,824

Total deaths: 59

Total variant cases: 223

POSITIVE RATE

Week 40 (October 3 – October 9) 4.0%

70 positive

1763 total tests

Week 39 (September 26- October 2) 2.5%

43 positive

1721 total tests

Two-week average: 3.24%

113 positive

3484 total tests