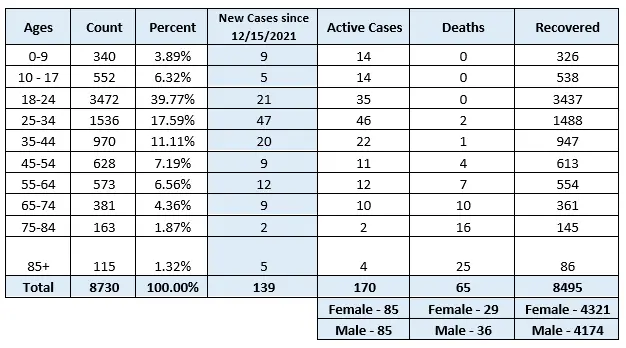 Riley County health officials identified 139 new COVID-19 cases and 116 additional recoveries in its latest weekly report out Thursday.
The health department says there are now 170 active cases in the county, with Ascension Via Christi caring for eight COVID-positive patients, five of whom are in the Intensive Care Unit. All but one of the eight patients are unvaccinated.
Health Department Director Julie Gibbs says in addition, they are seeing an increase in flu cases and says anyone who is symptomatic will likely be tested by their physician for both COVID-19 and influenza to ensure appropriate treatment.
She encourages patients to get vaccinated against both COVID and the flu.
Riley County Statistics for December 16, 2021:
Total positive cases in Riley County Residents: 8,730
Total active: 170
Total recovered: 8,495
Total deaths: 65
Total variant cases: 308
Percent Positive
Two-Week Average: 7.52% (up from 6.87%)
Tested Positive: 224
Tested Negative: 2,750
Total Tested: 2,974
Week 49 (December 5-11)  6.77%
Total Positives: 104
Total Tested:   1537
Week 48 (November 28 – December 4) 8.35%
Total Positives:   120
Total Tested:    1,437