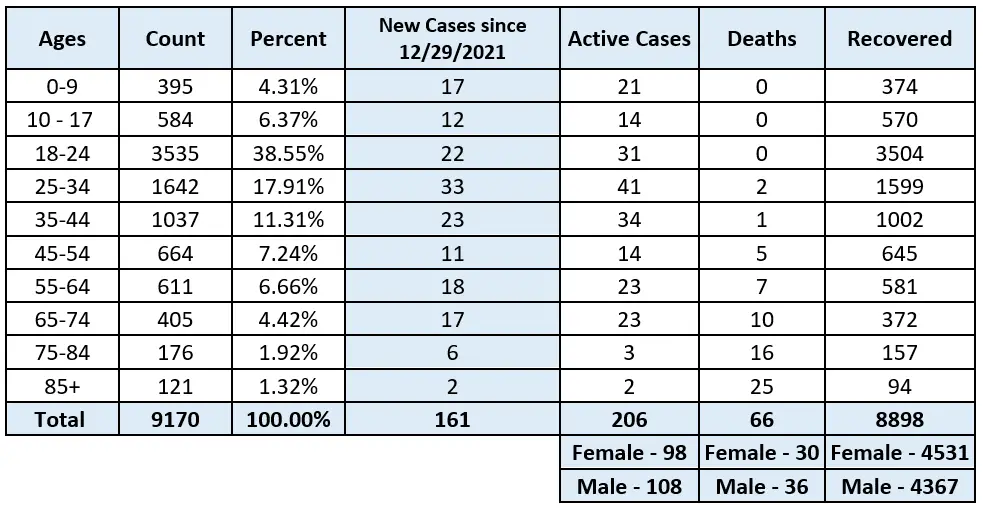 COVID numbers continue to climb locally, with the Riley County Health Department Wednesday confirming 161 new infections and 176 more recoveries since Dec. 29.
The health department is monitoring 206 active cases while the percent of positive test results rose to over 14 percent for the week of Dec. 26.
Ascension Via Christi was caring for 23 COVID-positive patients Wednesday. The health department says it's the second highest number hospitalized locally since the start of the pandemic. The hospital has 16 patients on the medical floor and 7 in its Intensive Care Unit. Those seven ICU patients are all on ventilators. The health department says 17 of the hospitalized patients are unvaccinated, including six of the ICU patients.
"Our hospital has reached the second-highest number of COVID patients since this pandemic started almost two years ago," said Bob Copple, President of Ascension Via Christi Hospital in Manhattan. "The best way that we as individuals can help curb this increase in COVID-19 cases is to wear a mask, wash your hands and continue practicing social distancing. Do what you can to protect yourself and your families. Get vaccinated, stay home when you can, sanitize surfaces often and take precautions."
The hospital's highest volume of COVID inpatients since the pandemic began in March 2020, was 25.
Testing for symptomatic individuals continues at the health department, but appointments are filling up quickly. Free drive thru testing continues also at the Manhattan Town Center north parking lot.
The health department is also experiencing reduced funding, leading to 8.5 less positions, or 340 hours of staff time per week and the gap will be filled by KDHE contact tracing staff.
The rise in new cases is not entirely unexpected following the holidays, coupled with local cases of influenza also beginning to tick upward, though no data is officially tracked locally on flu cases.
Riley County Statistics for January 5, 2022:
Total positive cases in Riley County Residents: 9,170
Total active: 206
Total recovered: 8.898
Total deaths: 66
Percent Positive
Two-Week Average: 11.80% (up from 7.78%)
Tested Positive: 332
Tested Negative: 2,481
Total Tested: 2,813
Week 51 (December 19 – 25)  9.35%
Total Positives: 140
Total Tested:   1,497
Week 52 (December 26 – January 1) 14.59%
Total Positives:   192
Total Tested:    1,316