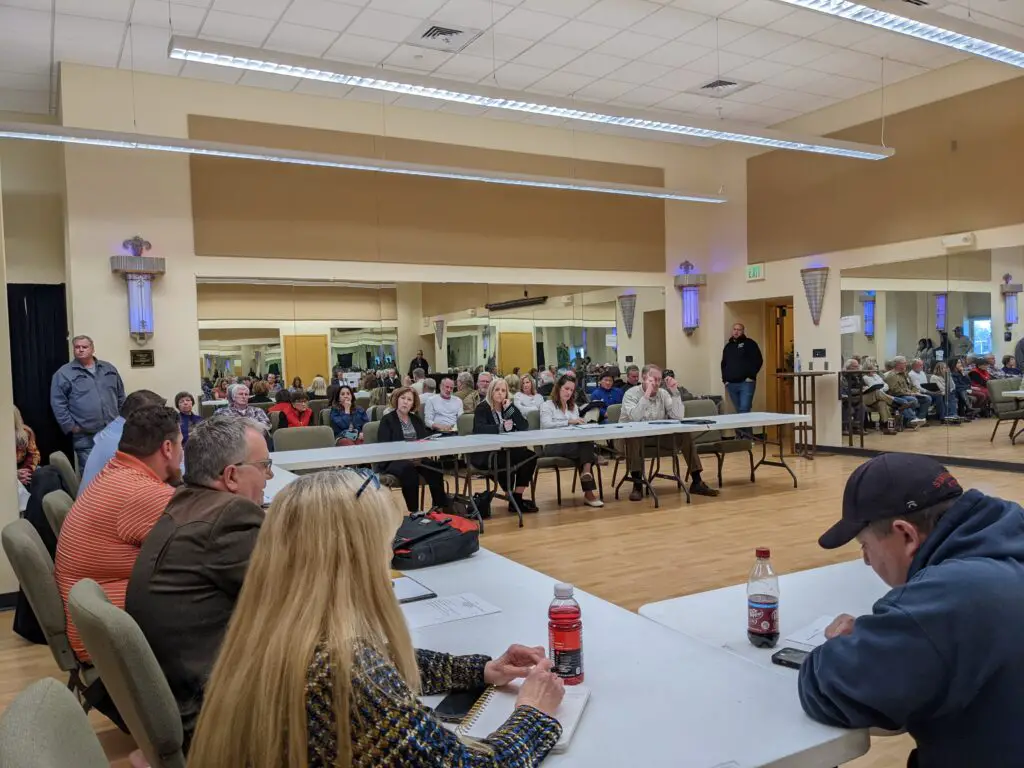 Infrastructure and facility projects were largely the focus of a joint governmental meeting Monday in Junction City.
Representatives from the City of Junction City, Geary County and USD 475 met as a collective in CL Hoover Opera House for the joint session. Administrators, commissioners and school board members discussed projects ranging from new highway interchanges and roundabouts to plans for the use of the old Junction City High School site.
Junction City City Manager Allen Dinkel discussed plans for a new interchange on Interstate 70 at Taylor Road. The project is part of the State of Kansas' Eisenhower Legacy Transportation program, which will roll out $750 million for highway projects to occur over 10 years.
Dinkel says the project will replace an existing bridge over the highway that is in poor condition.
"You can pull up Google Earth and see the rebar showing."
He says records exist in the city's office for an interchange in that same area that was planned as early as the beginning of the 2000s, and that it's a necessary project for the future of Junction City and Geary County's development.
"We have five interchanges now, one more to the west would make a lot of sense," says Dinkel. "And that's the first one that there's more developable land there than anywhere else — there's no floodplain, there's no hills, there's no rock."
He says the project could take between three to seven years to really get moving, depending on the State's timeline, and that the city and county have to consider ways to make the area near the interchange attractive to developers.
Other considerations related to the project included extending Strauss Blvd. to Taylor Rd., something Dinkel says was also considered in plans in existence in the city's office.
"But I do think we need to start having discussion on how we develop that area and the roads because having an interchange there to a gravel road doesn't make a whole lot of sense."
Dinkel says if the city doesn't take advantage of the project, it could take decades to get back on the State's queue. He further stated the new interchange and road development in the area is necessary in order to support westward growth the city is eyeing.
"So that's why we're planting seeds with the county because that's a county road out there," says Junction City Mayor Jeff Underhill. "Just kind of start thinking about that and what that's gonna look like because we're gonna start our part with Strauss, hopefully, and get to Taylor [and]it'd be nice to have a partnership that's helping to get people around."
Dinkel says there are also many grant opportunities available to aid in the local share of the projects.
Officials also discussed ongoing work on the K-18 roundabout located adjacent to the new Junction City High School campus, which JC Public Works Director Ray Ibarra says is 60 percent complete and could wrap by June or sooner.
"Most of the north side's been done," says Ibarra. "They've got the roundabout portion done and they've got the one exit lane going out to 18."
Dinkel says Junction City got a $2.1 million grant for the project in association with USD 475, as the district was ineligible to apply for the funds.
"So basically it's all paid by KDOT money," says Dinkel. "That included putting what we now know as Ray Way.
"We had to put a street on the backside where those houses are because KDOT took away those two accesses off the highway."
Ibarra says no plans as of yet have been made regarding what will be located at the center of the roundabout upon completion.
In other business, Dinkel says his staff have begun looking into possibilities for the old high school location if the property is transferred over to city ownership. USD 475 Board of Education members voted to sell it to JC for a dollar after some of the structures are demolished.
"We would like the opportunity to have a discussion on some things we could keep," says Dinkel. "Probably […] the football field, parking lots, and there's one building in the back that might be useable […] down the road."
Some ideas floated for potential uses of the site included a new library or a sports complex. If the purchase is finalized and a sports complex is chosen for the site, Dinkel indicated thought has to be committed to integrating it holistically into the city's recreation system — something he says is a priority to amp up for JC.
"We don't want this to be the only park in town," says Dinkel. "How does it tie into the 5th Street Park and the other facilities we have."
Dinkel and USD 475 members briefly discussed memorandums of understanding (MOUs) between the city and school district. USD 475 Vice President Kristy Haden proposed the three bodies review those agreements every four years as new board members and representatives enter office.
"Not to set an expiration date, but just be at least reviewed every four years."
Dinkel says he's not opposed to the idea, noting the organizations have collaborated on numerous occasions over the years.
Geary County Commissioner Alex Tyson also discussed ongoing efforts to secure funding for projects on Munson and Rucker Rds. After finding American Rescue Plan Act (ARPA) funds wouldn't be possible for the work, he says they've begun the application process for State SPARK funds.
"We're turning over every rock to help with getting those roads paved and done."
Other avenues they're eyeing include the Safe Streets and Roads for All program, which received $200 million per year in the federal Bipartisan Infrastructure Law (BIL) to reduce traffic fatalities and injuries nationwide, as well as Rural Surface Transportation grants.
Leaders were also sought to participate in a childcare summit through the State's ChildCare Aware agency. It's planned as an opportunity to collaborate and brainstorm on the local level, and is planned for March 25. Location to be determined.