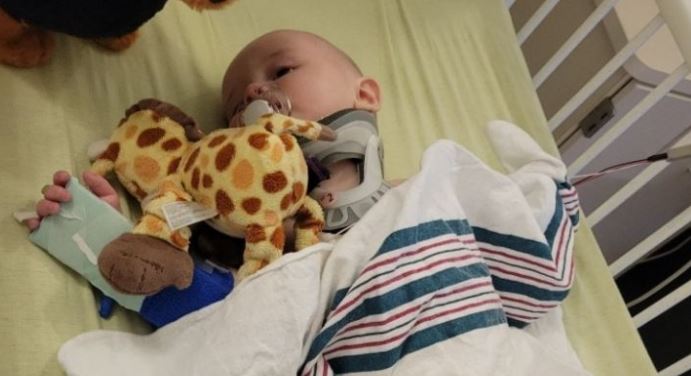 A Riley County jury on Thursday found a Manhattan man guilty of aggravated battery, for injuring an infant child last summer.
Gerald Hartman III was on trial this week for the July 2021 incident. He also stood accused of child abuse, however the jury was unable to reach a decision on that beyond a reasonable doubt.
The decision on the lesser count of aggravated battery, means the jury felt there was enough evidence to prove Hartman acted recklessly when he aggressively picked up 5-month old baby Lunix from his bouncer July 15 while babysitting. The incident caused the child to sustain serious injuries, including a subdural hematoma (bleeding on the brain), a broken left clavicle and a bruised chest.
Medical experts testified at trial that the baby's injuries were consistent with being shaken and abused. In closing arguments Wednesday, Deputy Riley County Attorney Bethany Fields noted that Hartman's own admittance to a police detective that he used more force than necessary handling the child, was enough evidence to convict him on child abuse. The defense argued that Hartman's actions were not intentional, suggesting Hartman was reckless and the incident was a tragic accident.
The case is now set for a status hearing on February 28 at 9 a.m. Hartman could potentially be retried on the child abuse count, if the prosecution desires. Sentencing will be set at a later date.
As for the child, his recovery continues, but according to his grandmother, he is celebrating his 1st birthday Friday, Feb. 11. A
GoFundMe page
to help the family with medical expenses continues is available online.