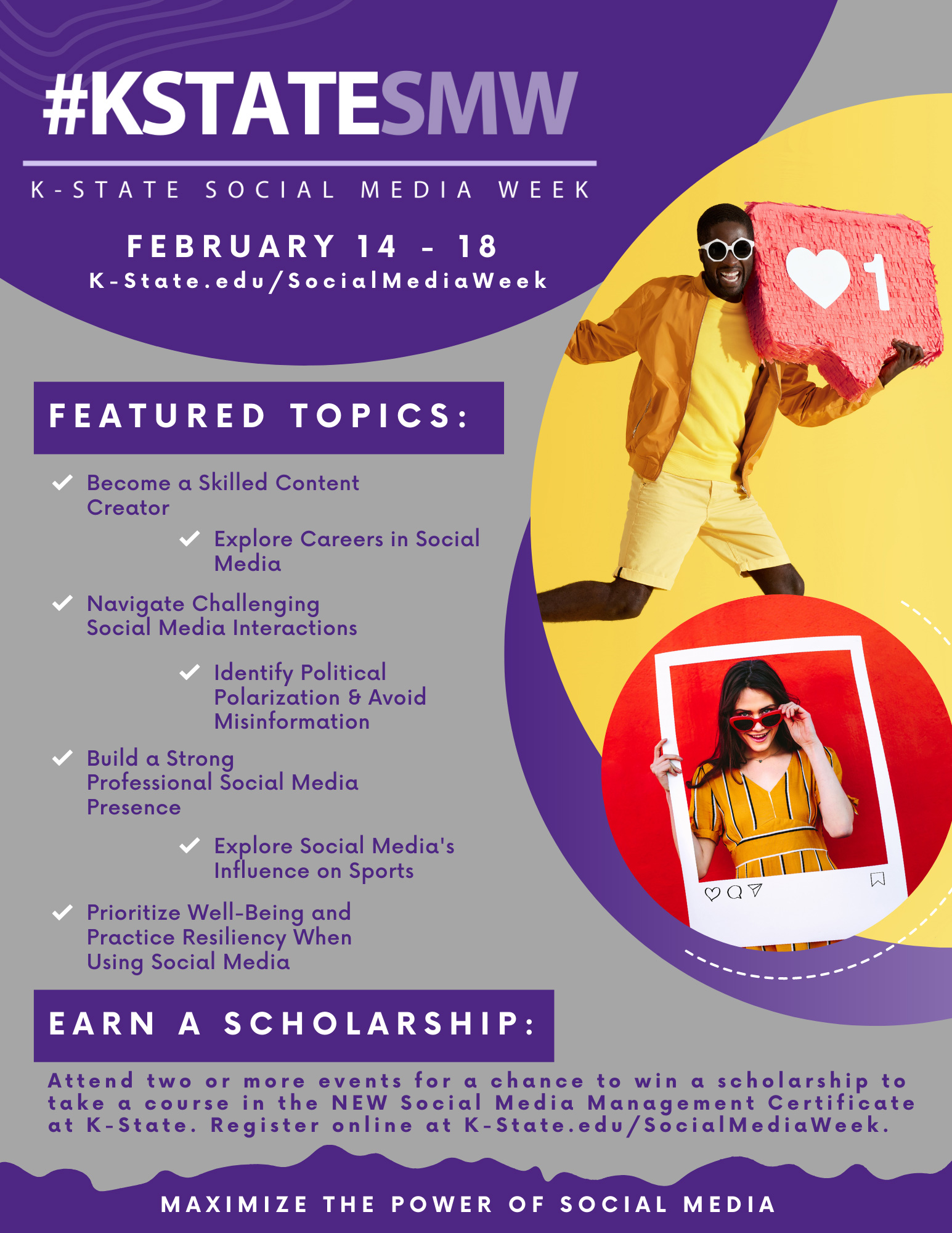 A week-long social media event is making its first appearance at K-State on Feb. 14th-18th, bringing together students, educators and industry professionals to provide insights and opportunities for maximizing the power of social media to succeed in a digitally-connected world. Journalism professor and event organizer Jana Thomas spoke with KMAN regarding the eventful week ahead for the university.
"How do we help our students and our community be more intentional, more informed, more thoughtful, more strategic about how they use social media in different aspects of either their personal or professional lives," says Thomas. "I really want to focus the week on positive things, focusing on innovation, collaboration, creativity."
K-State's Social Media Week will include a variety of discussions, workshops, lectures and guest speakers, inviting all units, departments and organizations to take part.
"We want to make it bigger and better every year and leave no stone unturned," Thomas says. "I want to make sure that this is a diverse and multi-faceted event every year that talks about the power of social media, the positive power of social media."
Thomas says the events are designed to encourage students to explore the opportunities inherent in social media, to stay informed, explore new ideas, express themselves personally and engage with others around the world.
"The impetus behind this is to bring together students, educators and industry to focus on maximizing the power of social media today," she says. "Whether you want to work full time in this space or whether you're just interested in how it impacts your industry or career field or just how you can use social media more effectively — there's something for everyone."
Thomas stated that she hopes to see the event come back for many years to come.
By attending two or more events individuals can earn a chance to win a scholarship to take a course in the new Social Media Management Certificate program at K-State.
"We have a new social media management certificate that is launching this summer at K-State made up of all online 8-week courses," Thomas says. "It's not only for undergraduate students here at K-State, but industry professionals who maybe want to take some time to come back and retool.
"You can take the courses through Global Campus at K-State, so you can be a non-degree seeking student and take courses."
Registration information is available on the K-State website.
Kicking off the week of presentations at K-State around social media is the Huck Boyd Lecture in Community Media, a long-running event of the A.Q. Miller School of Journalism and Mass Communication.
Department Chair Dr. Steven Smethers says the talk will feature Dr. Mark Smith, a sociologist specializing in studying online communities and computer mediated interaction.
"Dr. Smith has a lot to say on the subject of political polarization and what can be done about it," Smethers says. "What are some of the things we can do as consumers to make sure that we're getting what we would consider to be objective information from media sources that we get online and through our telephones."
Smethers says some questions of the afternoon will include how audiences are categorized by algorithms and what societal implications stem from that. He says the Huck Boyd Center's mission focuses it on issues dealing with media and society, one of the biggest of which currently is political polarization.
"There are a lot of fingers that point to the idea that […] the use of algorithms and social media as a way of being able to program people according to the information that they tend to seek out is causing a good portion of the political polarization problems in the country."
The lecture is scheduled to take place in the Student Union's Big 12 room at 10:30 a.m. on Monday the 14th. Following Dr. Smith's remarks, Smethers says a panel discussion will follow.
"That's going to take this topic further to actually discuss how this is a problem in society, what some of the solutions are," he says. "And that's going to be at 11:30."
A full recording of the lecture will be made available following the event.
Nick McNamara contributed to this article.