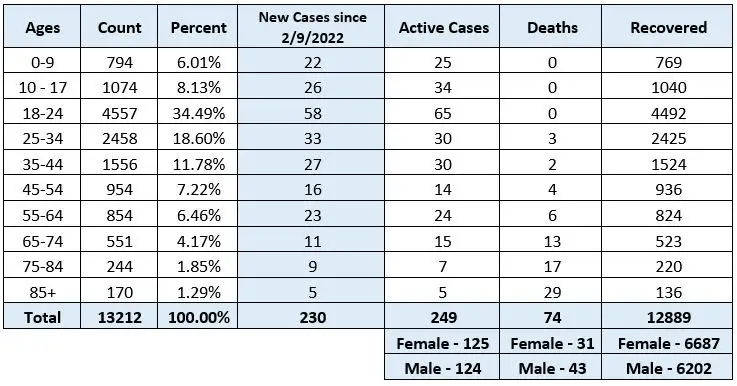 The Riley County Health Department continues to see active COVID cases drop as testing demand also continues to decline.
The latest weekly update Wednesday showed 249 active cases in the county. It includes 230 new cases along with 374 additional recoveries since Feb. 9. The two-week rolling percent positivity rate fell to 16.6 percent, from 22.3 percent for the previous period. To put that in perspective, last week the active cases were at 394. Two weeks ago, active cases were at 638 and peaked at well over a 1,000 active cases just one month ago.
Ascension Via Christi had eight COVID positive patients hospitalized Wednesday, but zero in the Intensive Care Unit.
The health department announced that Riley County saw its 74th COVID-related death, involving a 59-year-old unvaccinated woman who died Jan. 11.
Health Department Director Julie Gibbs says demand for testing has dropped significantly, with as few as 10 testing requests per day. The shift has allowed health officials to dedicate more resources back to regular healthcare services, such as maternal and early childhood health, family planning and immunizations. She is not anticipating any spikes in the coming weeks, but continues to encourage vaccinations.
Riley County COVID-19 Statistics for February 16, 2022
Total positive cases in Riley County residents: 13,212
Total active: 249
Total recovered: 12,889
Total deaths: 74
Percent Positive
Two-Week Rolling Percent Positivity Rate: 16.64%
Tested Positive: 547
Tested Negative: 2,740
Total Tested: 3,387
Week 5 (January 30 – February 5): 19.00%
Total Positives: 352
Total Tested: 1,853
Week 6 (February 6 – 12): 13.60%
Total Positives: 195
Total Tested: 1,434