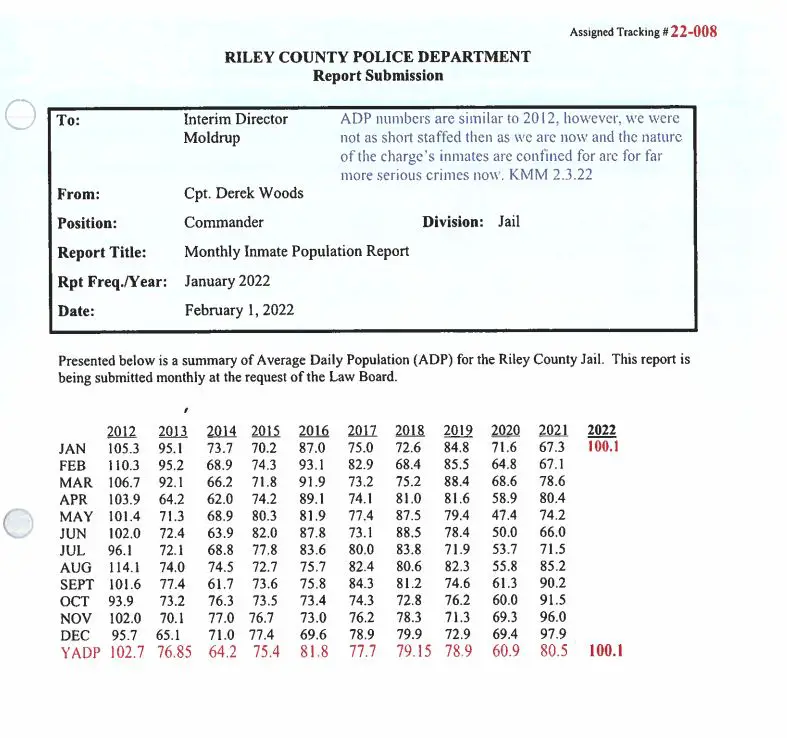 For the first time in 10 years the average daily inmate population in the Riley County Jail climbed to 100 in the month of January.
It follows seven consecutive months of increases in the jail dating back to last June. Interim director Kurt Moldrup addressed some of the reasons behind the increases, primarily attributed to the pandemic and a backlog in the courts.
"So the slowing down of trials has backlogged the number of inmates that we have. We also just have a larger number of violent inmates in there too, which is part of the slowing down of those trials, slows down the number of those who get moved on to the Department of Corrections," he said.
In 2012, the average daily population for the year was 102.7. The highest year-to-date since was 2016 at an average of 81.8. In 2021, the jail averaged 80.5 inmates incarcerated per day. Moldrup says it's also becoming a concern as staffing shortages, particularly in corrections, remains a challenge.
"This increase in population also comes at a time when we are probably the lowest on our staffing levels, which will become an issue as we talk budget season. Back in 2012 we had a generally full staffing (level) and we're critically low right now. It's going to be important to draw people into corrections," he said.
The jail had roughly 33 more inmates on average per day in January 2022 than it had in January 2021.