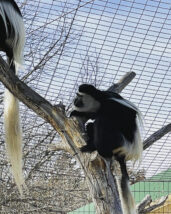 Sunset Zoo and K-State's Veterinary Medicine program recently worked together to restore the eyesight of a monkey living at the zoo.
Mangalisa is a colobus monkey, who lost her sight causing her to not be able to climb the trees. Marketing and Development Officer Melissa Kirkwood says this became an issue since colobus monkeys live in trees.
The zoo's primate keeper was the one who first noticed the drastic change in Mangalisa. For around five months, staff noticed her sight getting worse, eventually leading to complete blindness .
The zoo was able to release Mangalisa back into her habitat rcecently, following her recovery from the successful surgery.  She took around two weeks to fully heal.
Once back in the habitat, Mangalisa was able to adapt back into her habitat and with her troop.  During her recovery, Kirkwood says it was important that her troop was still able to see her.  A mesh door was set up in the room she was staying in so they could do so.
While Mangalisa is an older monkey, Kirkwood says this wouldn't stop them from making sure she has a good life.