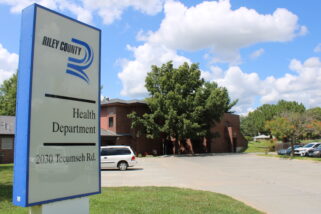 The Riley County Health Department continues to see improving COVID-19 numbers, noting just three new cases in the past week and 11 more recoveries.
Ascension Via Christi was caring for two COVID-19 patients as of Wednesday. The 2-week rolling percent positivity rate also fell to 1.6 percent, down from 2.87 percent last week, as the health department was aware of just six active cases in Riley County.
Health Department Director Julie Gibbs noted any uptick from spring break travel likely wouldn't be noticed until later this week or next week. Starting April 4, the RADXup team of grant-funded staff operating in the health department will move to the KDHE testing site at 3019 Anderson Ave., which the county has leased through the end of April.
Demand for COVID testing continues to decrease as case numbers decline and the health department says starting next month, it will no longer offer COVID testing at its main location and instead will distribute take home tests.
Riley County COVID-19 Statistics for March 23, 2022
Total positive cases in Riley County residents: 13,446
Total active: 6
Total recovered: 13,361
Total deaths: 79
Percent Positive
Two-Week Rolling Percent Positivity Rate: 1.60%
Tested Positive: 21
Tested Negative: 1,292
Total Tested: 1,313
Week 10 (March 6 – 12): 2.27%
Total Positives: 18
Total Tested: 794
Week 11 (March 13 – 19): 0.58%
Total Positives: 3
Total Tested: 519