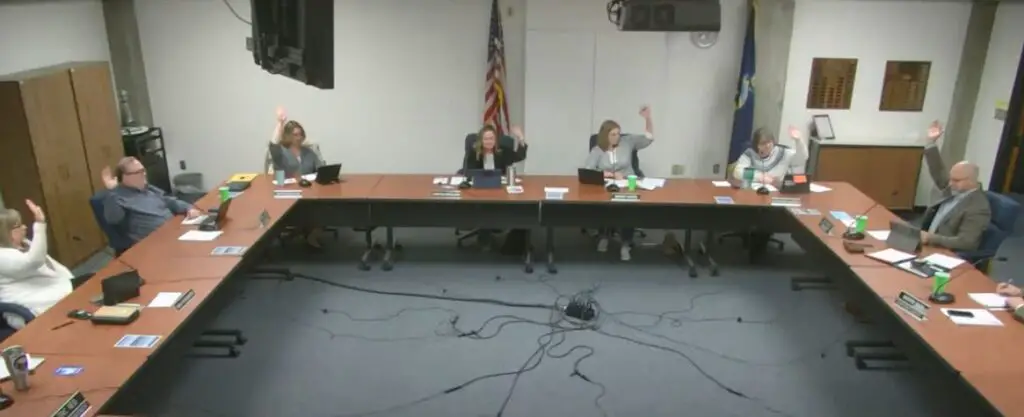 A succession plan for the Manhattan-Ogden superintendent position was approved Wednesday by the USD 383 school board.
As part of that, Assistant Superintendent Eric Reid was named the successor to Dr. Marvin Wade, upon Wade's retirement on a 6-1 vote, with Christine Weixelman opposing. The board voted to update the superintendent job description to no longer mandate a doctoral degree, changing the language to say it is preferred. That change had near unanimous support from board members.
Board Vice President Darell Edie says it's a change that has been needed since the last time the district hired a superintendent.
"This one piece of the document I still think needed to be changed and it should be preferred, because there are a lot of people out there that are highly qualified that didn't go back to get a doctorate because they're busy. The work in the positions has got to account for something," he said.
That vote also was 6-1, with Weixelman opposing, questioning how this plan would impact, if at all, salary requirements for the superintendent position.
"How does this impact other job requirements for teachers because a lot of their pay is determined on their educational credits and so are we going to need to look at those job requirements as well? If that's the case are we going to go to a strictly merit based raises system? It has further implications than what we're trying to do and that's all I want to do is raise that point," she said.
Board president Curt Herrman, who introduced the agenda item Wednesday says the question comes down to what's more important, the degree or the direction of the district.
"Are we happy with the direction the district is going and do we want to stay that course? To stay the course, we would need to change that job description," he said.
The board voted 7-0 to have Dr. Wade and Reid work on a succession plan to bring back to the board at a future meeting. Wade has not indicated an intent to retire to date.
Reid, who is in his seventh year in the district, was a candidate for the Spring Hill USD 230 school district superintendent position, according to a now deleted web post online. The district ended up hiring Dr, Link Luttrell, who came over from Festus, Missouri. Reid told the Manhattan Mercury this week he is not a candidate for any other positions.