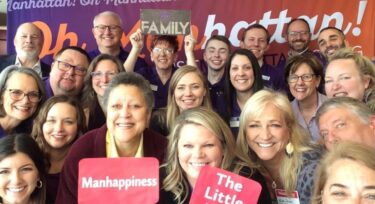 As the hospitality industry continues to rebound from the past two years of slow activity, those who market Manhattan as a meeting destination are out promoting its offerings.
Members of the Manhattan Area Chamber of Commerce and Convention and Visitors Bureau hosted the "Oh Manhattan Road Show" at the KSU Olathe campus Thursday, an opportunity to showcase why Manhattan is a great place to host events. CVB Executive Director Karen Hibbard says some meeting planners aren't aware of what Kansas has to offer beyond Lawrence.
"Kansas is a great place to enjoy and certainly we want them to choose Manhattan, but that was the reason we went into the Kansas City area was so that we could help tell that story. The road doesn't stop at Lawrence," she said.
CVB has marketed Manhattan extensively in Kansas City, according to Hibbard.
"Some are very familiar with Manhattan, some are not. It was a great day to have this come and go event for people to come and learn more about meetings," she said.
Hibbard says CVB does a lot of the heavy lifting for meeting planners, putting together welcome packets for attendees, welcome speeches from dignitaries and publicizing when those meetings are taking place.
"We can put together bid proposals from the hotels so (they) can see availability, what the cost would be involved, how many sleeping rooms (they) might need, what meeting space would be like. We generate and get those bid proposals put together," she said.
Prior to the pandemic shutdowns, Manhattan was averaging between $18 to $27 million estimated economic impacts with meetings alone. While those numbers fell off in 2020 and 2021, it does appear a shift is coming as already through the first quarter of 2022, CVB has held 31 meetings in Manhattan, with over a $3 million economic impact.
April is full of activities in the Manhattan area, with the calendar filling up each week. To stay up to date, visit the events calendar at VisitManhattanKS.com. Karen was a guest on KMAN's In Focus Friday. She joins on the first Friday of every month. In Focus is heard weekdays at 9:06 a.m.