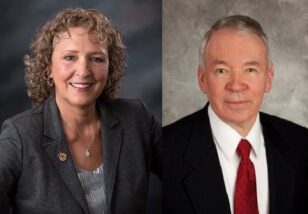 Both of Manhattan's representatives in the Kansas House have filed for re-election.
66th District Representative Sydney Carlin announced this week her intent to seek another term. The 77-year-old Democrat has held the seat since 2003. She currently serves on the House Appropriations Committee and is the ranking member on the Agriculture Committee and Natural Resources Budget Committee. She also serves on the Joint Committee on Corrections and Juvenile Justice Oversight. Carlin ran unopposed in the 2020 election.
67th District Representative Mike Dodson will seek a second term serving in the legislature. The 76-year-old Republican and former city commissioner announced earlier this month his intent to re-file. Dodson serves on the elections committee, as well as the insurance and pensions committee, as well as the veterans and military, and commerce, labor and economic development committees. Dodson defeated Cheryl Arthur in the 2020 election, when the seat was vacated by Tom Phillips, who retired.
Just last month, 51st District Rep. Ron Highland, of Wamego announced his retirement from the Kansas Legislature at the end of his term, which expires in January. The 75-year-old Republican has endorsed Manhattan attorney and businessman Kenny Titus.