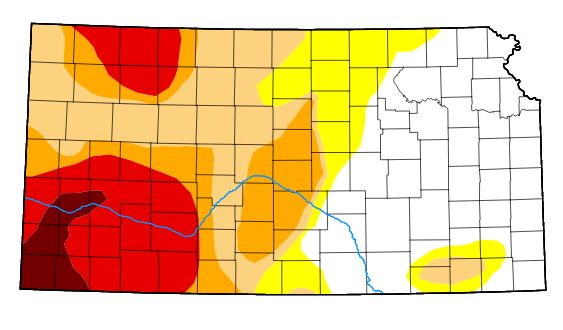 Drought conditions have improved significantly across much of Kansas, though some portions of southwest Kansas continue to see ongoing concerns.
According to the U.S. Drought Monitor's latest data, released Thursday, widespread precipitation helped portions of the state see two-category improvements. Most of Riley County went from abnormally dry in last week's report, to having no significant signs of drought in this week's report, except for the extreme northwestern tip of the county.
Much of the eastern third of Kansas has been removed from drought and the primary concern continues to be in western and specifically southwestern Kansas, where extreme to exceptional drought remains. Portions of northwest Kansas are also seeing signs of extreme drought.
According to the Kansas Mesonet, 2 inch soil temperatures in Manhattan Thursday averaged 67 degrees.