Kansas voters have rejected a proposed amendment to the Kansas Constitution that would have added language stating it does not grant the right to abortion.
The total was 59 percent of voters favoring no change to the constitution. Riley County voters rejected the measure by a 68 to 32 percent margin. Pottawatomie County voters went the other way, favoring the yes vote by a 56 to 44 percent margin. Voters in 19 counties, including the most populated urban area of Kansas City, Wichita and Topeka favored rejecting the amendment.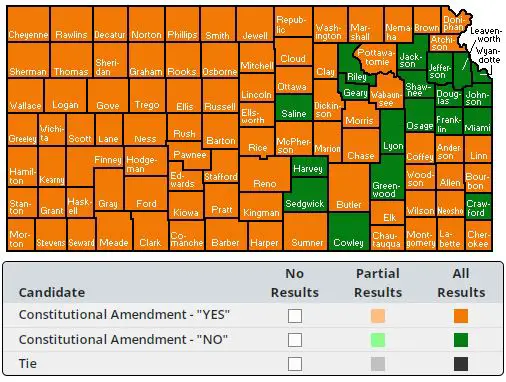 The referendum was the first in the country to be posed to voters after the Supreme Court overturned Roe v. Wade in June. It's a major victory for abortion rights advocates. The Kansas Supreme Court in 2019 issued a decision that declared access to abortion is a "fundamental" right under state's Bill of Rights.
Tuesday's decision means abortions up to 22 weeks remains legal in Kansas. The state has seen an uptick in abortions for out-of-state residents, after neighboring Missouri and Oklahoma banned the procedure in almost all cases. Nebraska could add further abortion restrictions as well in the coming months.
State races on Tuesday saw a comeback for Kris Kobach.
The former Secretary of State will be the Republican nominee for Attorney General this fall, after defeating State Sen. Kellie Warren by a 42 to 38 percent margin. It's the first election victory for Kobach after failed bids for governor and U.S. Senate. Kobach will face off against Democrat Chris Mann in the fall.
Meanwhile the current Attorney General Derek Schmidt easily won his primary for governor and will face incumbent Laura Kelly in November. The governor easily advanced in her primary as well. State Sen. Dennis Pyle of Hiawatha also announced an Independent candidacy for the governor's seat on Monday.
Sen. Jerry Moran, of Manhattan easily advanced in his primary and will be challenged by Democrat Mark Holland, who beat out five other democrats for the nomination.
Incumbent Scott Schwab defeated Mike Brown in the GOP Primary for Secretary of State, and will take on Democrat Jeanna Repass in the fall.
The GOP State Treasurer race was too close to call, with Steven Johnson holding a less than 800 vote advantage over Caryn Tyson. The winner of that race will take on Democratic incumbent Lynn Rogers.