by Mason Voth – EMAWOnline – Managing Editor – @TheRealMasonV
Quarterback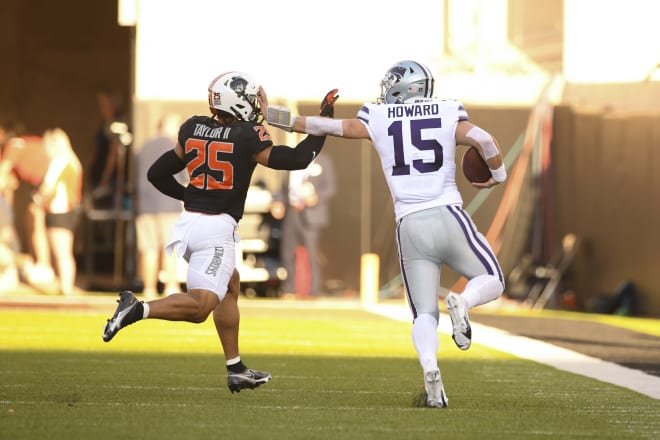 All eyes will be on the man that lines up behind the center come Saturday for the Wildcats, as there are questions on the health and availability of Adrian Martinez. If he isn't able to go, Will Howard will make his first start of the season.
Coincidentally, it would be Howard's third straight year as the starting quarterback against Oklahoma State. Howard got the start in 2020 in a pivotal home game for the Wildcats who were still trying to reach the Big 12 Championship. The Wildcats also entered that game fresh off their first conference loss of the season on the road at West Virginia. Howard made crucial errors down the stretch, including a fumble that Jason Taylor II took back for a touchdown, to ultimately end the game with a 20-18 loss.
Last season, Howard only played a chunk of the game after he suffered an injury in the first half. In his career, Howard has thrown for 193 yards, one touchdown and one interception, while also running for a total of 153 yards and a score.
TV Ratings
Much has been made in the current state of realignment on TV viewership, and more specifically between the two furthest west conferences in the Big 12 and Pac 12 which are the most recent leagues to lose members. The ratings wars started by national and west coast media have always boded well for the Big 12 when using logic, and that trend has continued this year. As pointed out by Adam Lunt on Twitter, the three best games in terms of ratings this season for FS1 have been Big 12 games.
Since conference play began, the Big 12's highest-rated game each week featuring future members (excludes Oklahoma and Texas) has topped the PAC 12's highest-rated game featuring their future members (excludes USC and UCLA). K-State is averaging 1.44 million viewers in their four games on linear TV this season (not ESPN+).
The FS1 numbers are also notable because the two highest-rated FS1 games this season involve the two schools playing on Saturday in Manhattan, but get broadcast TV on FOX. Below are the 2:30 PM kickoffs for this week's games and their TV networks.
CBS – Florida at No. 1 Georgia
FOX – No. 9 Oklahoma State at No. 22 K-State
FS1 – No. 8 Oregon at California
ACCN – No. 10 Wake Forest at Louisville
ABC – No. 17 Illinois at Nebraska
ESPN – No. 20 Cincinnati at UCF
ESPN2 – Northwestern at Iowa
The passing attack stays aggressive
Against TCU, the Wildcats aired the ball out to take advantage of a struggling Horned Frog secondary in the first half. The Wildcats threw for 192 yards in the first half on 10/13 passing, while Kade Warner and Sammy Wheeler caught touchdown passes. Howard also made critical throws to Phillip Brooks and Malik Knowles in the first half as well. The Wildcats also had seven plays of 20+ yards through the air in the first half, but none in the second which became wonky when Howard also suffered an injury. The seven passing plays over 20+ yards are the most this season, the next closest game being six plays of that nature against Oklahoma.
Oklahoma State comes to Manhattan with a beat-down defense, including Jason Taylor II who had two interceptions against Texas and has hassled Howard in the past, but his status is up in the air after suffering a hyperextended knee (per his mom) against the Longhorns. The Cowboys rank last in the Big 12 in passing yards allowed per game, with an average of 303 yards per contest.
The question that has to be answered, was whether Saturday's first-half success was built on the mindset of nothing to lose when Howard entered the game, or if Collin Klein and the Wildcats have confidence in challenging poor secondaries.
Who kicks and when do they kick?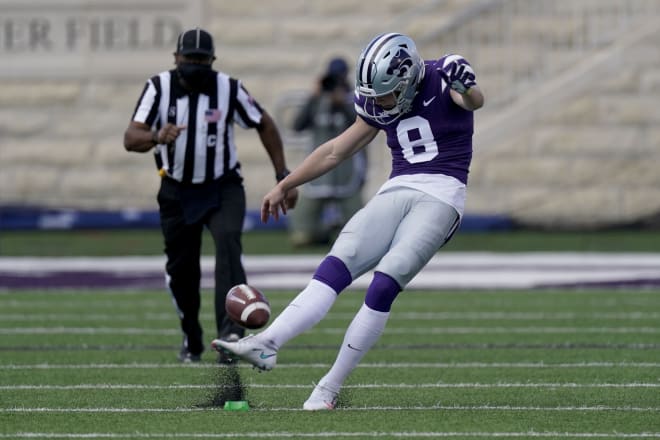 Chris Tennant
 missed two more field goals on Saturday in Fort Worth, and on Tuesday 
Chris Klieman
 was not committed to still trotting his young kicker out. Klieman noted that there would be extra competition in practice this week, while
In addition to the possibility of three different kickers against the Cowboys, Klieman also admitted that he wanted to go for it on fourth down against TCU in the second half, but since Will Howard suffered an injury on the play prior, he decided it wasn't fair to Jake Rubley to ask him to try the quarterback sneak. The kick by Tennant came up short and Rubley failed to convert a fourth down conversion later in the game. Given the kicking situation and confidence in either Adrian Martinez or Howard's ability to make plays with their legs, I think the Wildcats might be extra-aggressive on third and fourth and short plays this weekend.